by Carol Bruns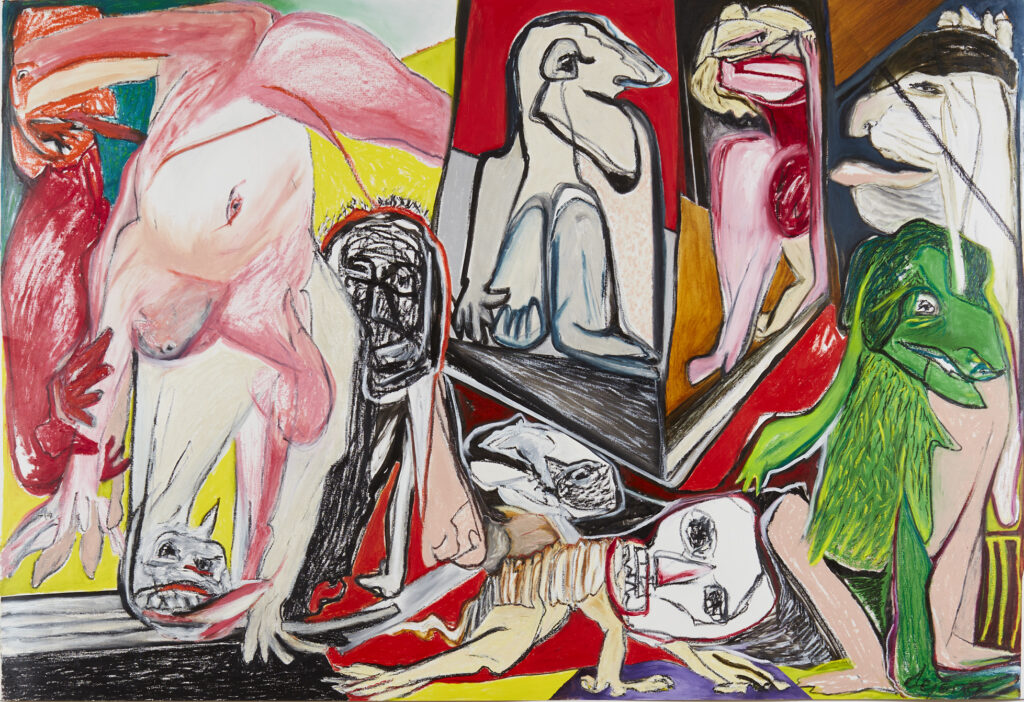 Our culture is permeated with violence. By media or in person we regularly experience violent economics, massacres of children in schools with automatic weapons, relentless assaults on the natural environment, widespread domestic violence, and even violent car driving, movies, games and songs. In an Itchy and Scratchy cartoon the character Tarantino remarks, "It's even in breakfast cereals" and we guiltily laugh along with children at their absurd and extreme ferocious capers. It seems we're wired onto its electric horror and excitement, while its production of suffering in real life is staggering and immeasurable, leaving no one unharmed, usually the direct result of policy choices.
Not new but never old hat, painting violence has a continuous historical thread. In Modernism Manet, Beckmann, Dix, Picasso, and Golub, among throngs of others, have roped social brutality and suffering to a wide scope of aesthetic means. Dutch artist Jacqueline de Jong, an important artist of the post-war avant-garde, is now showing paintings at Ortuzar Projects in Tribeca highlighting the violence of the world-wide refugee crisis.
At age 82, the artist has a long and notable past. She was born in 1939 to a Jewish family of art collectors. Soon after when the Nazis occupied Holland, the French Resistance aided de Jong and her mother to escape from Amsterdam to Switzerland while her father remained behind in hiding. In 1947 after the war the family reunited when she was about eight years old.
In 1959 when de Jong was 20 she became romantically involved for ten years with the older Danish painter Asger Jorn (1914-1973), a friend of her parents. He was 45 then and had founded the avant-garde group CoBrA and the Situationist International, both European organizations of social revolutionaries who were anti-authoritarian, radical leftists. She met Debord of the Situationist International, author of The Society of the Spectacle, and in 1960 joined them as one of two women, becoming a central member. She was expelled in 1962 and commented,
"I was in solidarity with (the German branch) Gruppe SPUR. It was very simple. The magazine was on trial in Germany for blasphemy and pornography but, instead of defending it, Debord, Attila Kotányi and Raoul Vaneigem made a pamphlet denouncing the group. They said the magazine was financed by a capitalist, which was absolutely ridiculous because this capitalist was the same big collector that bought all of Jorn's paintings. And Jorn financed the situationists. I mean, it was hilarious: so totalitarian – and totally hypocritical. I sided with Gruppe SPUR and so did the Scandinavians, and that was that.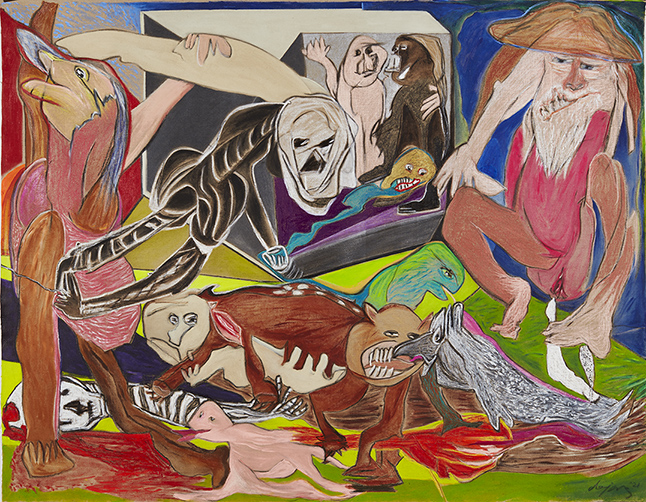 "De Jong's next move was to originate, edit and publish The Situationist Times for the five years of its existence from her Paris apartment until it went bankrupt. She said, "The point, for me, was to offer a platform for publishing things that couldn't be disseminated anywhere else" while Jorn continued to collaborate with SI under a different name. The six issues between 1962 and 1967 had a very lively appearance with colored papers, expressive drawings, and a variety of content such as an exquisite corpse game, an algebraic text, and a composer's score. It was inexpensively hand printed in a process between duplicating and offset and then bound. She said of this involvement, "What I was interested in, quite simply, was changing the world."
During the May, 1968 uprising de Jong was active, pasting posters throughout the streets of Paris. It was a crucial moment personally and politically. When the radical humanism of student power was smacked down she reflected, "The Communist Party came out against the students and told the workers not to support them. That was pretty much the end of it. We felt immensely betrayed. It was three weeks of total euphoria – such a feeling of possibility – and after came a huge hangover. Complete disillusionment. In a way, it was also the beginning of the end of my relationship with Jorn; it was the moment at which I realized that he was of a different generation. He didn't want to be involved (although he did also make posters in support of the students); he said he had already been through the Spanish Civil War."
Fifty years and a life replete with exhibitions, monumental commissions, and lectures followed.
Recently, during the corona virus lockdown, the artist was struck by news of refugee crises in Idlib, Syria and the Mediterranean. In response, she wove its humanitarian and political catastrophes into a group of new paintings, Border-Line, commenting, "They are about refugees mainly, Syrian not from Afghanistan, because I made work about that not so long ago. Also, there are South American refuges. What I used are mainly newspaper and television images and I just made a story out of them – not my story, but their story via me."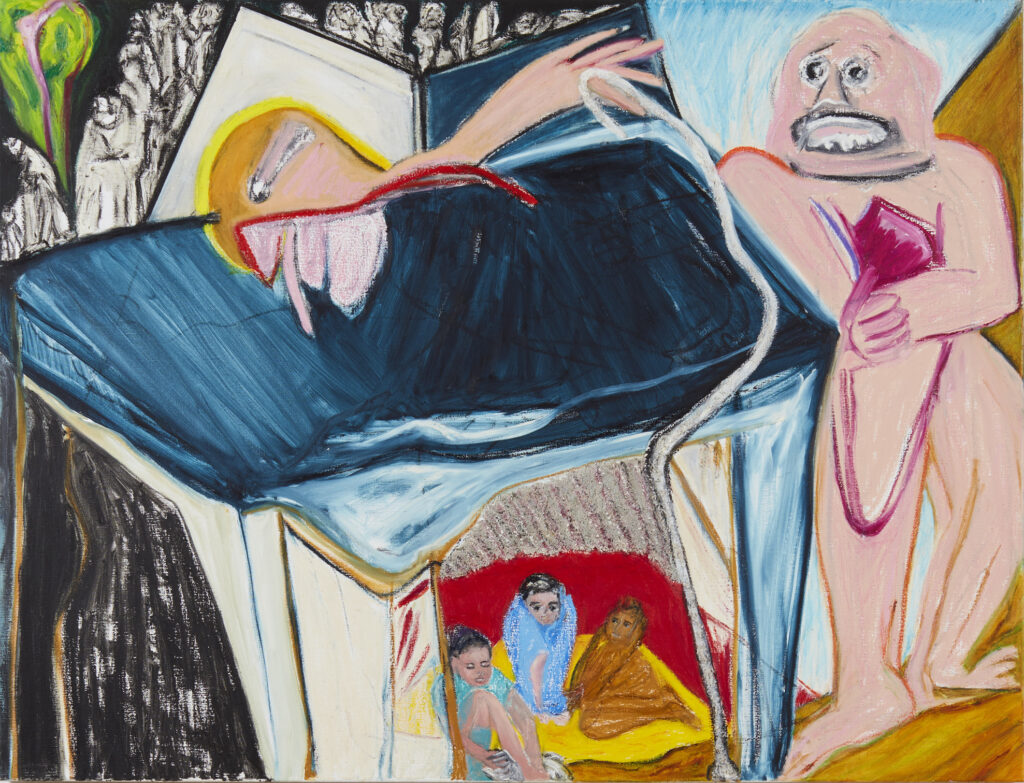 Upon entering the elegant Ortuzar Projects gallery, the paintings' formal mastery lept off the wall. Using oil sticks, pencil, brush, finger, and cloth, de Jong constructed bold spaces on the canvas such as in Refugees (Bogota/Venezuela) (39 3/8 x 51 1/4 inches) where a table and folding screen corral the international crisis into a domestic format with three refugees huddled under the table painted in brown, red, yellow, pale blue and green while an anguished refugee four times larger anchors the right side in pink and magenta. A decapitated head lies on the table and behind the screen a long queue of refugees are roughly indicated in back and white. Her style of drawing repudiates naturalism and convention as did CoBrA artists, the art of the insane, and indigenous art pointing to a truth beyond appearances, one from a deeper place. I imagined de Jong painting with an athletic stance, from the shoulder, using her entire arm to register the deformations of violence in a process of constant invention.
The painting Devils Morgate (55 x 90 inches) seduces the gaze to enter a demonic scene by beautiful color including both pastel shades and primary hues. Set in a crowded imaginary space the figures recline, sit, span foreground to background, while grimacing, grinning, laughing, and emerging from ambiguous places. A toothy grin, scrambled hair, and claws keep the eye focused on savage details that present the viewer with the simultaneous existence of high culture and the barbaric.
Locked in and Out (55 x 80 1/2 inches) employs emphatic drawing to fracture the canvas into areas where some figures are contained within and others escape to the outside of shard-like borders. In the mayhem a skeleton figure reclines. One pink figure is upside down, one painted entirely in shades of green. All the figure depictions are animal-like, agonized, deformed, possibly demented. The palette of purple, black and white zones, yellow ochre, red, the palest yellow, and a primary yellow enchant while the monstrous figures repel. On a personal level this tense situation seems to demand that opposite energies within can be acknowledged and their tension tolerated in a search for the truth, that our hideous and cruel shadows can be transformed. The political arena is ourselves multiplied.
UK public intellectual Terry Eagleton has said that tragic art is a perverse blend of terror and delight, and that because cast in symbolic form, the audience can reap pleasure from it. Tragic art is both an acceptable form of obscene enjoyment and an art form of great moral depth and splendor. De Jong told a New York Times interviewer recently that she listens to Bach while painting in her sky-lit Amsterdam townhouse attic, and that she does not do yoga or exercise. "In the old days I said there are two important exercises: painting and making love."
Jacqueline de Jong's Border-Line Exhibition opened November 11, 2021 and continues until January 8, 2022 at Ortuzar Projects, 9 White Street, New York NY 10013