by Jen Dragon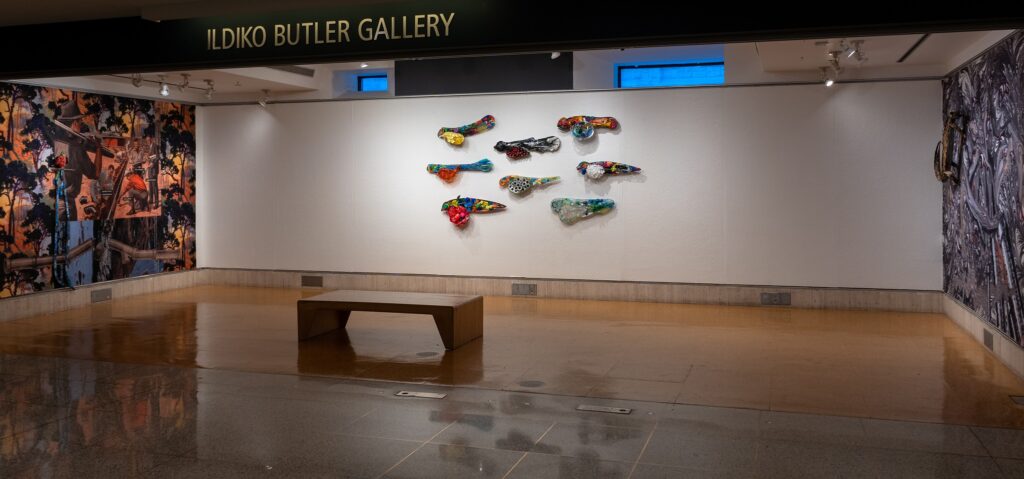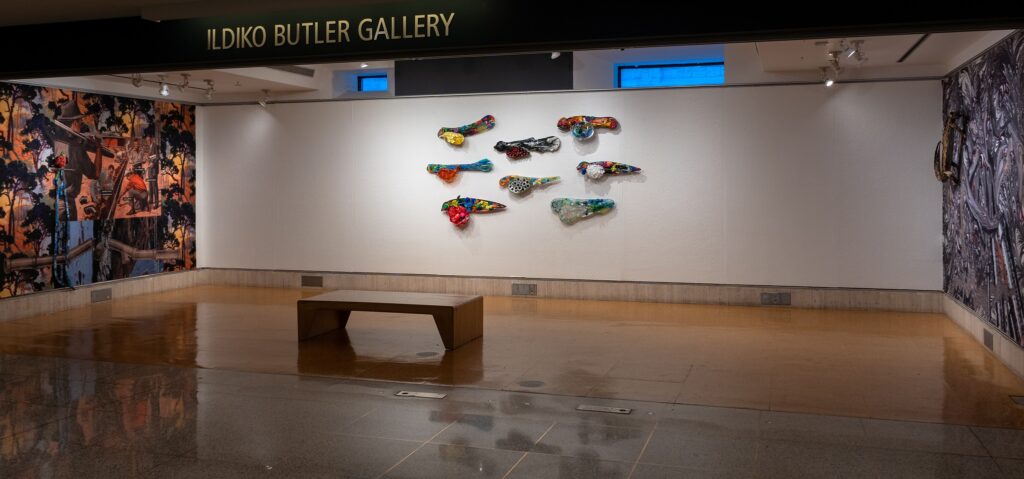 Christy Rupp's latest solo exhibition Leaf Litter at Fordham University's Lincoln Center Campus is an installation that comments on the environment while creating its own environment. Large printed digital versions of Rupp's collages cover both end walls serving to expand the width of the gallery while sculptures of indicator species distort space as the perspective shifts dizzyingly from micro to macro organisms.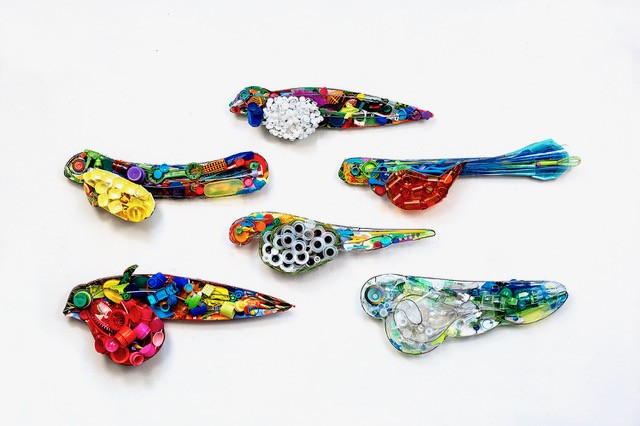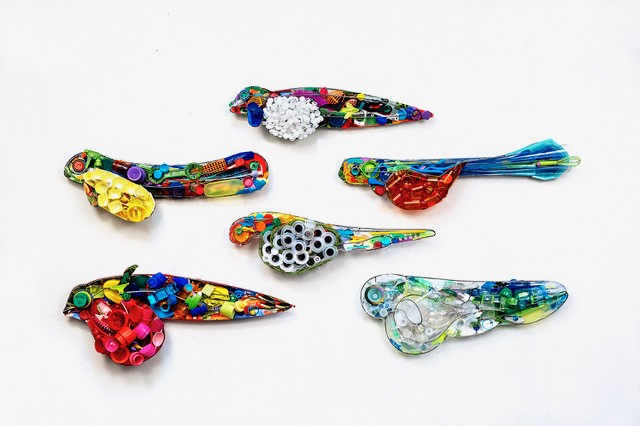 One wall-sized collage depicts housing construction in a forest with a three-dimensional sculpture of an extinct Quetzel bird perched above. This bird, once common in Central America, is made of credit cards; a commentary on borrowing from the future at the expense of the present. The other wall features a depiction of an oily mess of broken pipes under water with small planktonic crabs flowing through. A large Forest Newt made of burnt matches is installed above symbolizing the connection between air and water pollution made possible by the destabilized levels of CO2 in the atmosphere. Bridging the two walls is an installation of eight enlarged aquatic larvae made from single use plastics representing the omnipresence of micro plastic particles now evident in all stages of organic life.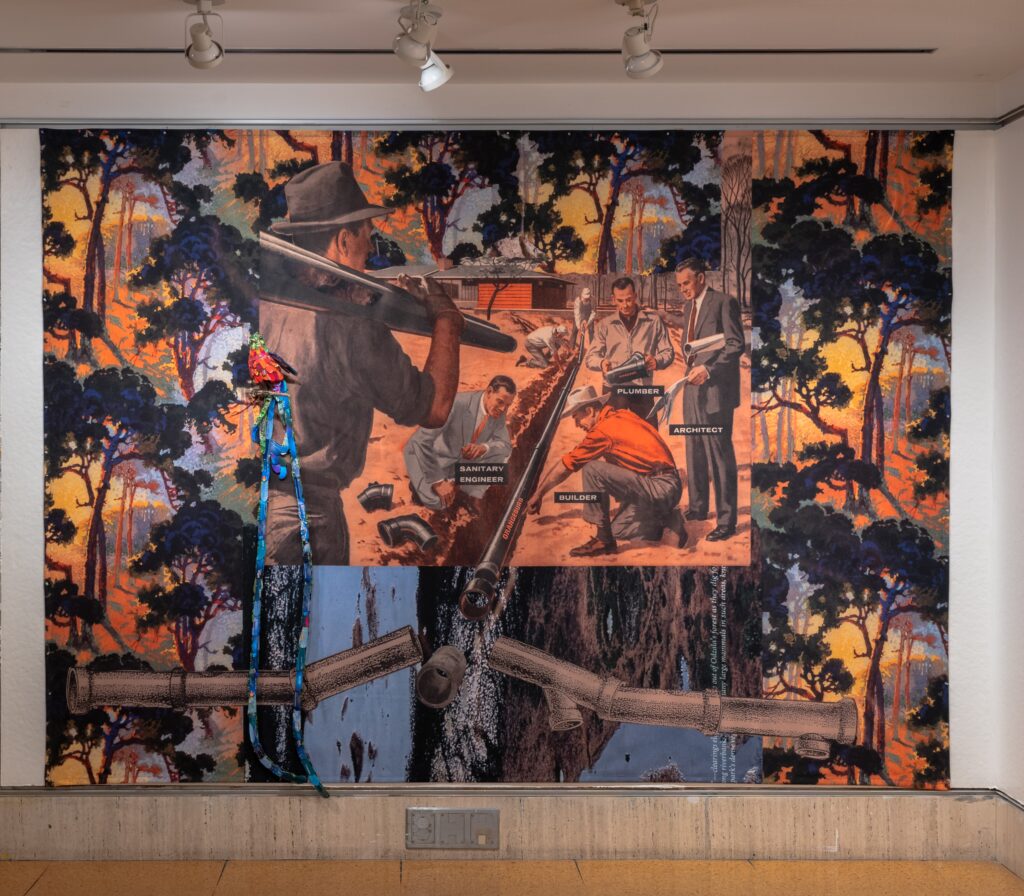 Christy Rupp's artwork has long shown a light on fragile ecologic systems and threatened species. As climate change accelerates, her work has taken on more urgency as she turns her attention to the unseen casualties of disrupted environments from minute larvae and plankton to immense forest and aquatic ecosystems. Rupp also engages the ghosts of extinction such as the Quetzel bird with the implication of possible mass death for other life forms.
Leaf Litter is an exhibition that is clear and direct yet the installation is infused with ironic humor. The large-scale wall piece on the East wall depicts a nostalgic, cheerful cooperation of blue-collar construction workers together with suited-up architects and engineers while underground pipes leak sewage and towering trees are poised for felling. On the west wall, the whimsy of helplessly floating zooplankton in whirling oil and water underscores the horror inherent in the beauty of these non-miscible fluids. And in the center, a school of eight larger-than-life aquatic larvae stuffed with colorful plastics that permeate their beings swim obediently in formation.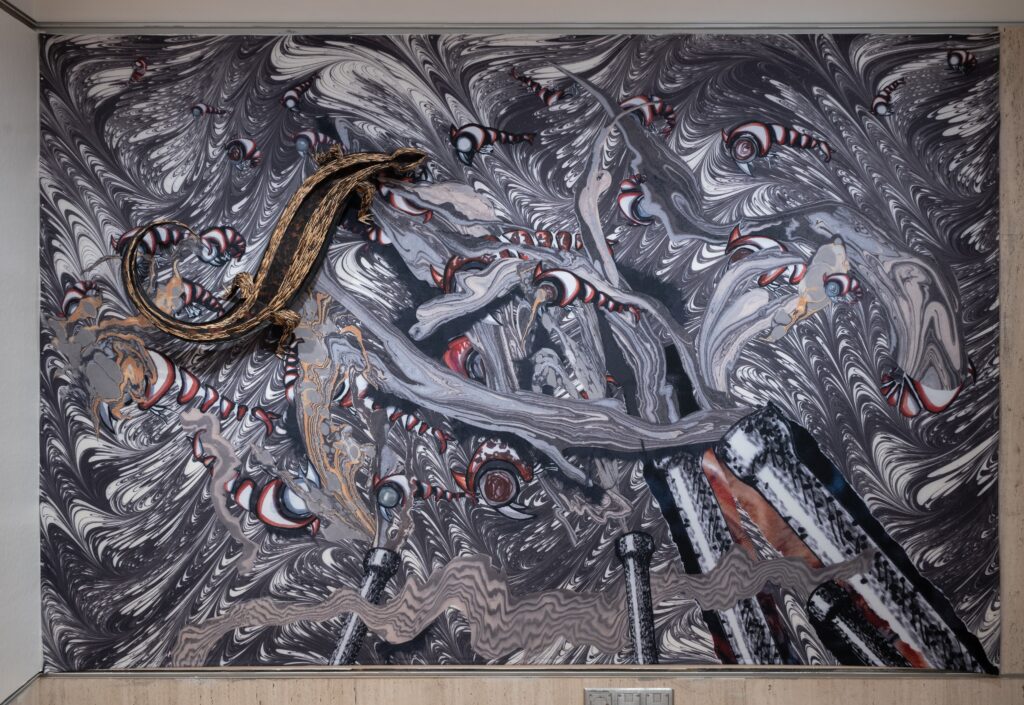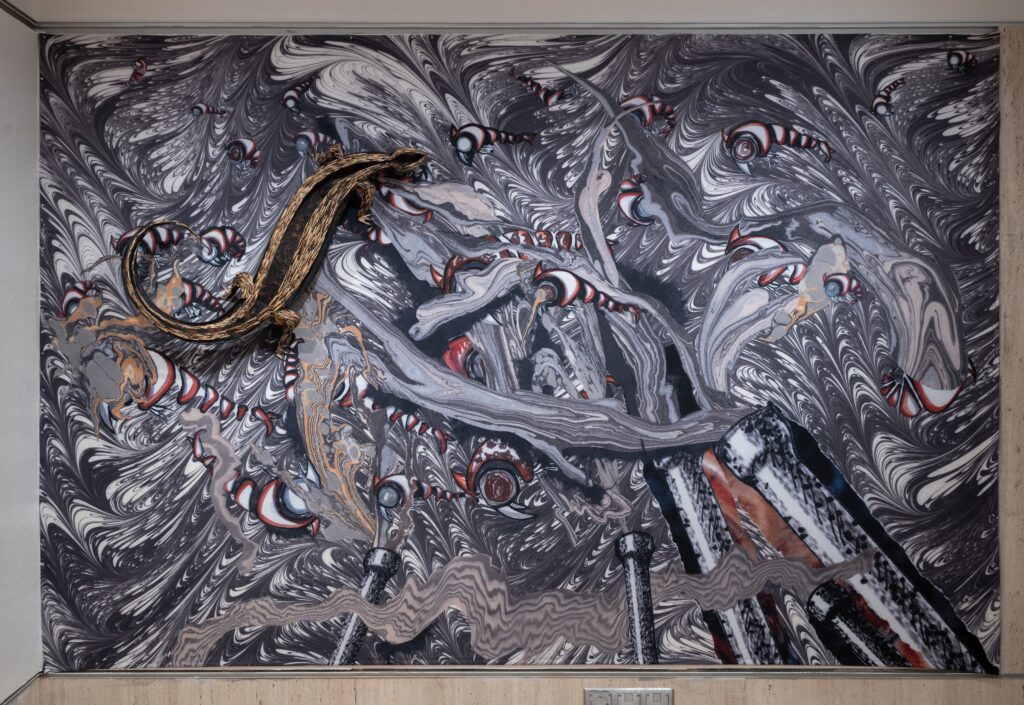 Leaf Litter coincides with the publication of Christy Rupp's monograph, Noisy Autumn. This art book is a survey of over 45 years of Rupp's ecological sculpture and works on paper. Her perceptive message has been consistent throughout her career and becomes increasingly relevant as time goes by. As climate change accelerates, Christy Rupp's artwork urgently demands that we consider both the seen and the unseen as well as what has happened and is poised to happen – unless we take action.
Christy Rupp: Leaf Litter on view through February 27, 2022 at the Ildiko Butler Gallery, Fordham University, 160 W 60th Street, New York, NY 10023 United States. The galleries are open everyday from 9–9, except during University holidays. More info: contact@fordhamuniversitygalleries.com