by Steve Rockwell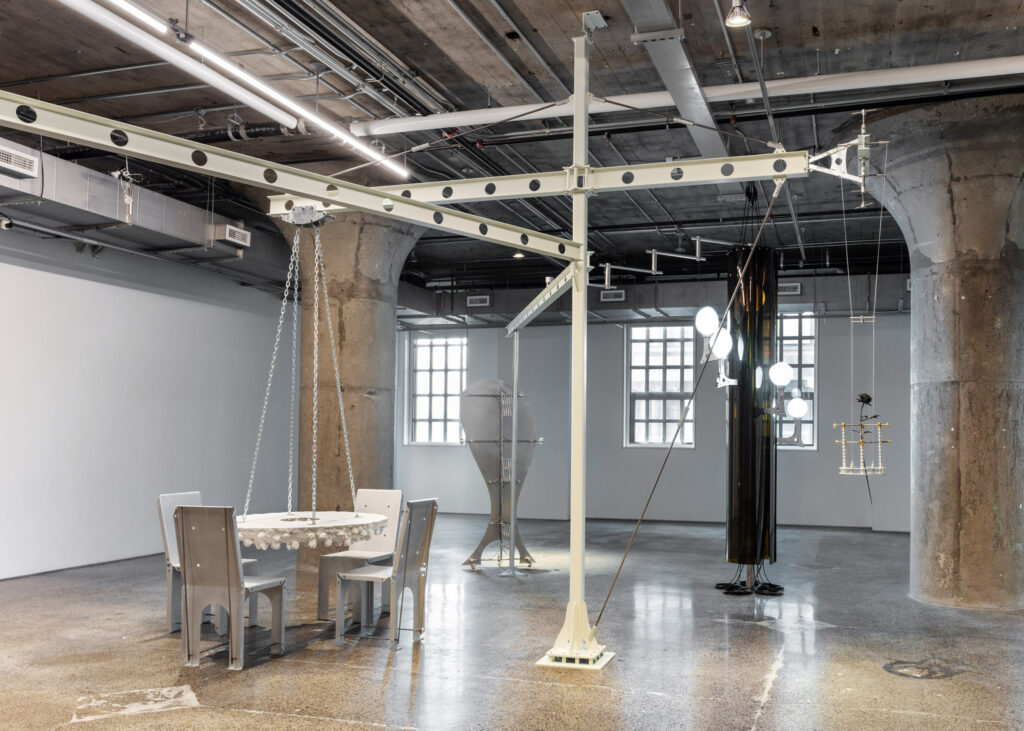 The cluster of Spring 2023 exhibitions at the Museum of Contemporary Art in Toronto (MOCA), might best be viewed as a bouquet of sorts, its vase the Auto Building, a 10-storey architectural industrial heritage building on Sterling Road. Built in 1919 by the Northern Aluminum Company, the building is characterized by its exposed concrete framing and used as an aluminum foundry and manufacturing plant that was operational as recently as 2006. Its adaptive reuse for the creative and digital sector, as well as its museum venue, seems still to be in the process of completion, and the "landmark structure" as a whole might fully be appreciated when its grounds and architectural nesting are complete.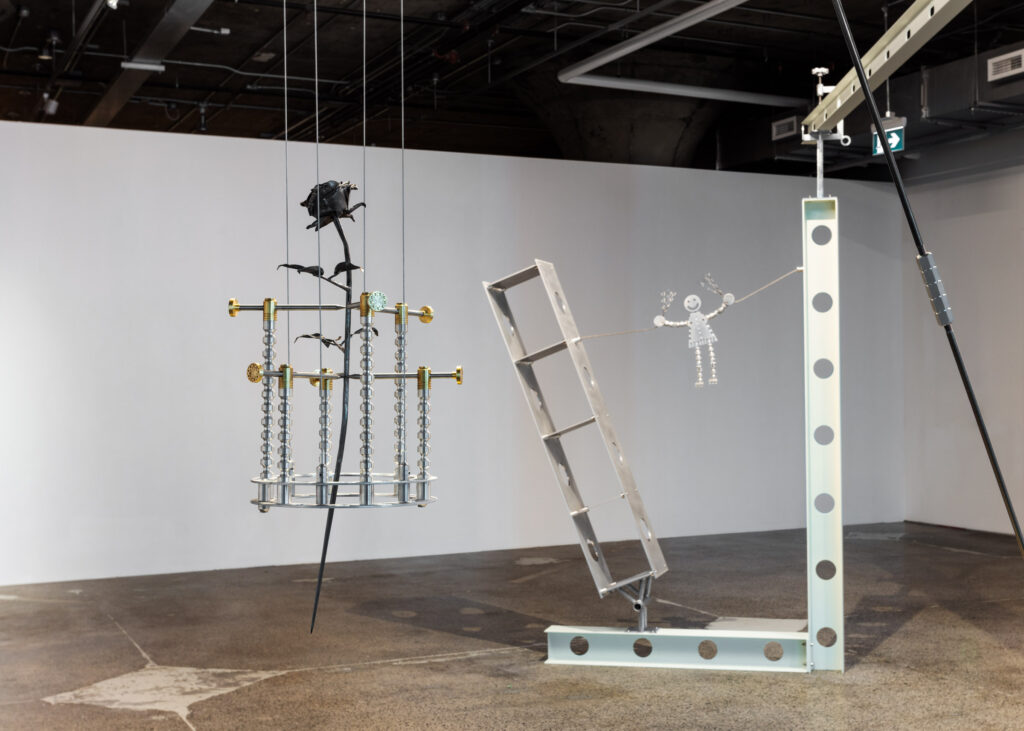 Exhibitor Susan For Susan, the collaborative design team of brothers John and Kevin Watts, in their Trade Show exhibit, delivers the bridge between the cultural practices of art, architecture, and design. Central to the exhibit is an elaborate gantry – a system for moving heavy loads across warehouse floors.
Trade Show is essentially one big sculpture broken into separate parts: a concrete table suspended by chains with a set of box pan chairs, an accordion movable metal mirror, a lamp column structure, and a tilting metal bookcase held in place by the out-stretched arms of an aluminum puppet. An ironically creepy component of Trade Show is a lizarov frame holding a handcrafted black rose made of steel. The lizarov method is used in surgery for limb reconstruction and reshaping bones, but its use here inevitably brings to mind the iron maiden, a medieval torture device with spikes that enclose a human being.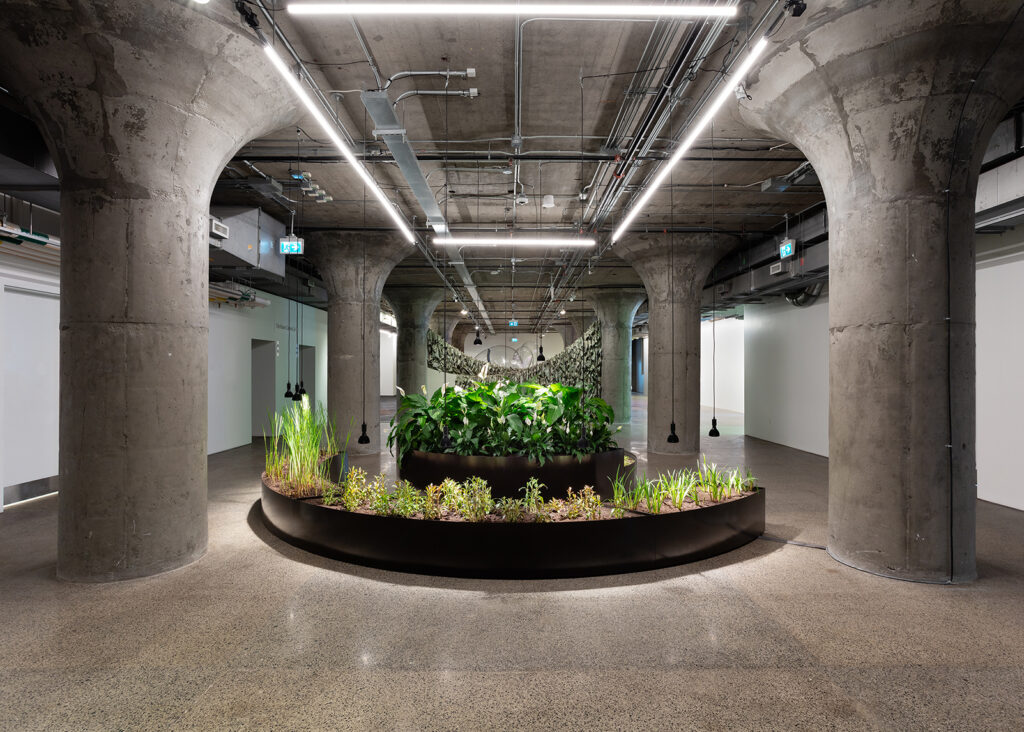 Canadian-French artist Kapwani Kiwanga is presented at MOCA with her first major survey exhibition in Canada. Her Remediation exhibit is the product of researches into the tensions between toxicity and regeneration of our environment. She studied anthropology and comparative religion at McGill University, but her focus had been medical anthropology. In view of the violent convulsions that the earth has undergone over time, Kiwanga has been interested is in how nature and humankind have variously responded to these phenomena. MOCA's industrial past inspired the artist to produce many new site-specific works such as flooring and window interventions and inflatable vivariums. In natural settings, plant life has found a way to fight back from contaminated environments. On the other hand, Kiwanga has succeeded here in seeding MOCA's brutalist interior.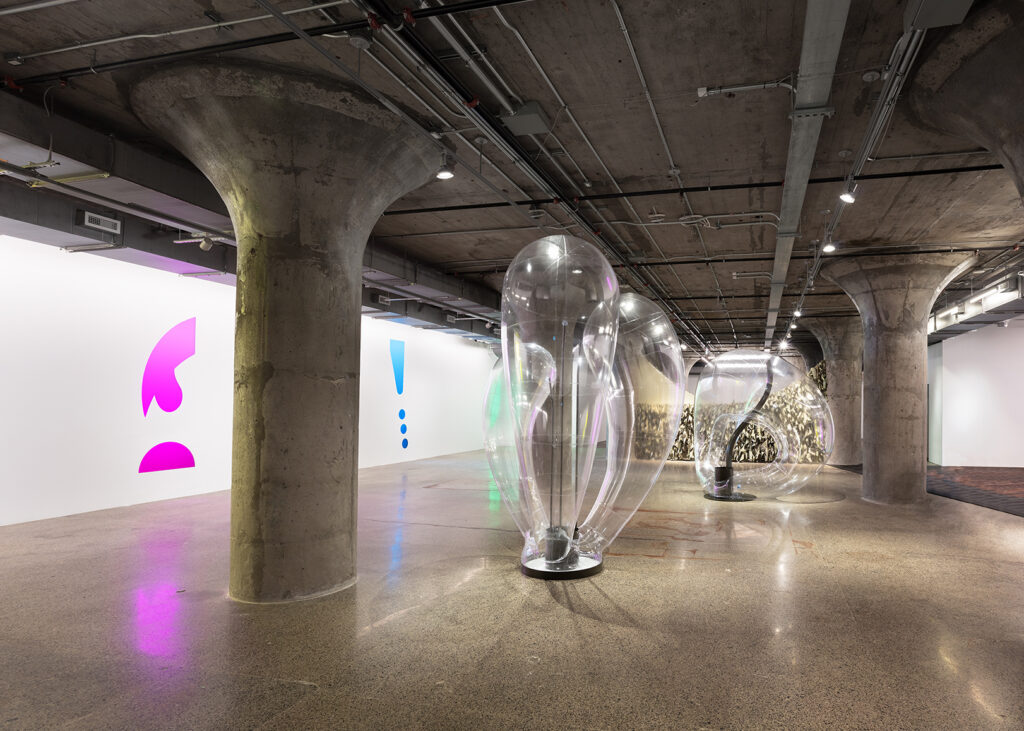 Commissioned by MOCA Toronto, Greek/Canadian artist Athena Papadopoulos produced her large-scale sculptural works The New Alphabet in response to the isolation of the past two years of the pandemic. The first of two bodies of work, Bones for Time makes use of hospital and wool blankets that mime the artist's body shape into letters. With Trees with No Sound, Papadopoulos finds new use for unwanted furniture, clothing and stuffed objects. It seems that almost anything may grace a Papadopolous tableau, from hair dye, lipstick, red wine, bleach, shoe polish, and iodine tincture to nuts and bolts. The artist's working process is an exultation in the breadth of cultural effuse and its subsequent regurgitation creatively. She has stated that "The works are not meant to be moving upwards towards a point of precision, they are of a world that is downward and sprawling."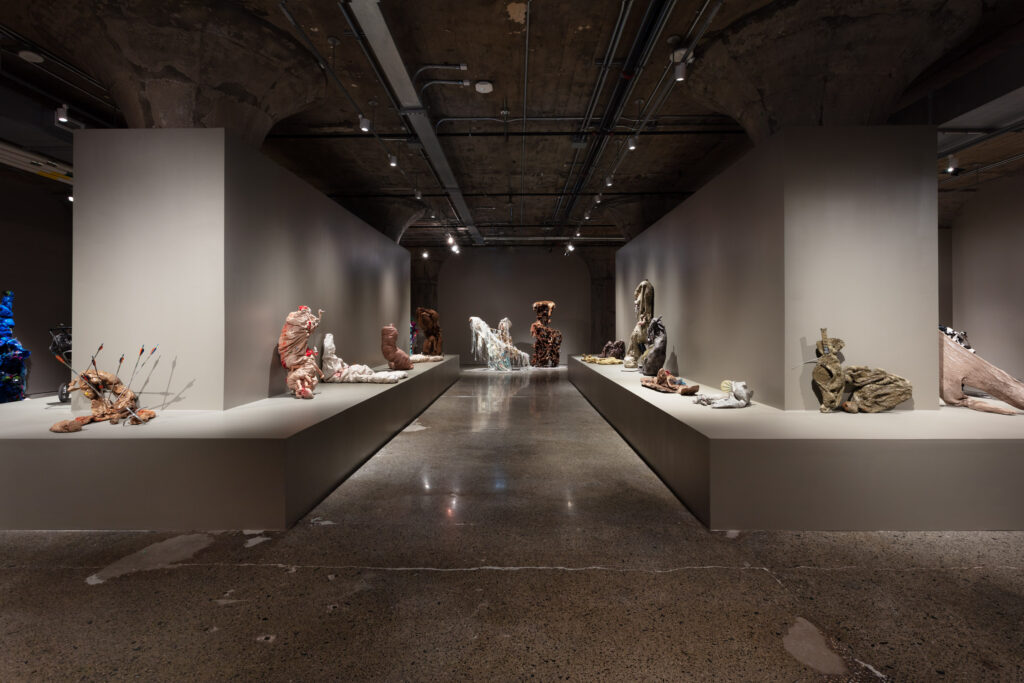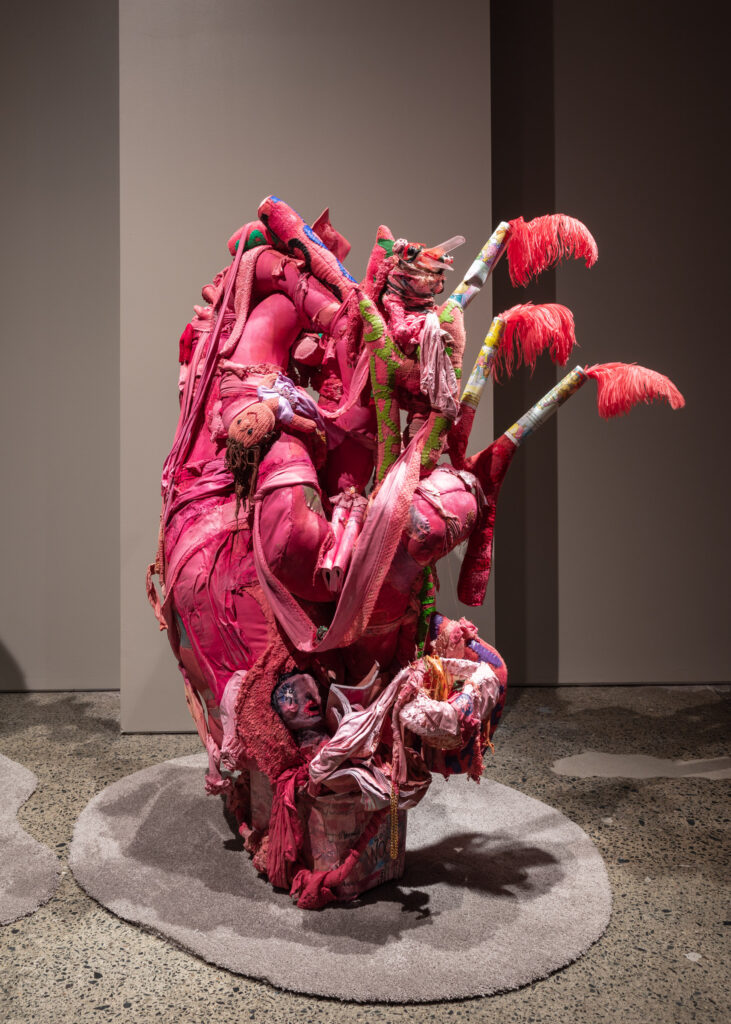 The ground floor of MOCA's North End Gallery features Turkish conceptual artist Serkan Özkaya's installation ni4ni, or as it would be read when sounded out, "An Eye for an Eye." The artist combines digital technology with a massive, mirrored sphere for a truly immersive experience, a sense of having been shrunk to the size of a blood vessel, an experience not unlike the 1966 sci-fi adventure Fantastic Voyage. Here it's a journey toward an all-seeing eye that casts a 360 degree image. The technology has roots that date to 100 A.D., with scientist and astronomer Ptolemy, who had developed an equi-rectangular projection method able to translate a spherical surface onto a plane.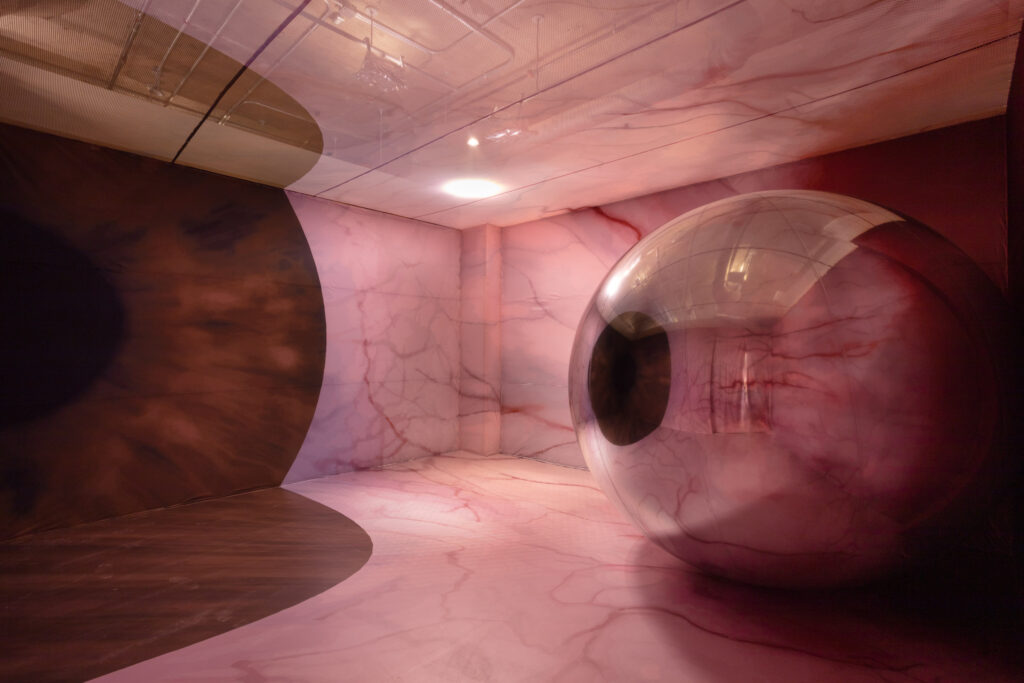 Approaching the MOCA Auto Building from the rear and seeing a billboard for an apparent real estate advertisement seemed peculiar for an art museum, but less so having exited the museum. Crown land is, in fact, a portrait of Philippine-born artist Patrick Cruz at age fifteen, appearing in the sign as a realtor. If the Cruz lightbox signals an implied entanglement of art world with real estate, and there might be some truth to it, in terms of the present cluster of exhibitions, the connective threads between building, museum, installation, and individual artist, coalesce nicely here into a cohesive whole.