by Thalia Vrachopoulos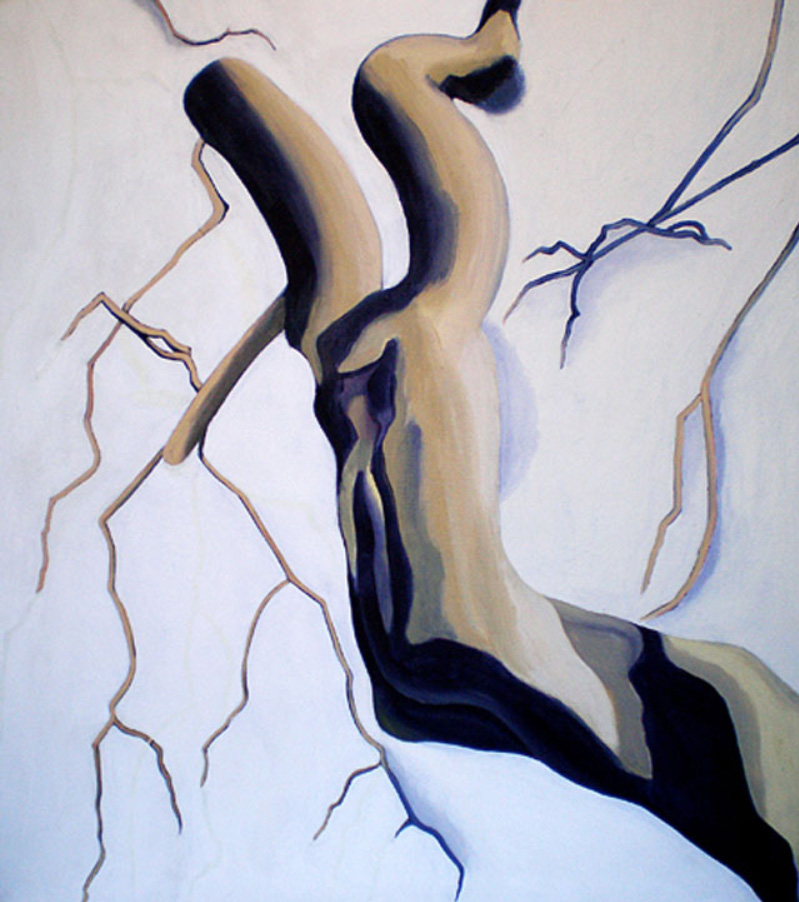 In her October exhibition at 107 West in New York City, Mary Hrbacek displays her series World Trees, 2015. Consisting of 24 acrylic on linen paintings, the series represents Hrbacek's engagement and commitment to world sustainability. In a lyrical, evocative manner she accentuates the import of trees' life-giving properties that allow humans to live and breathe. In this she recognizes that an individual working with the community can make for a real democracy. Hrbacek also realizes that there is a dark side to life and nature, as seen in her work Silver Dark Monarch, 2015 (acrylic on linen, 8×10″) that looks ominous when compared to some of her other tree paintings. Dark Monarch with its pink, black, green and silver tones recalls the withering effects of such an entity's sovereignty. Hrbacek's motifs are inspired by trees she came across in her travels to such places as Vermont, Italy, China, Morocco, the Czech Republic, Ireland, France and other places.
In examining Hrbacek's slightly older pieces it becomes apparent that this is an artist who has matured and found her métier. Just as Walt Whitman sought to find individuality, and to celebrate the American nation's potential, Mary Hrbacek examines nature and gives poetic expression to its essence by depicting trees. Hrbacek does not only eulogize nature in her demure and mysterious images of trees but like Whitman she seeks to demonstrate her subjects' underlying spirit. To both Hrbacek and Whitman, even matter is the observable aspect of the divine. Whitman's Transcendentalist thought has roots in German philosophy that influenced New England thought in the early 19th Century. It is in New England, where Hrbacek maintains her studio in Vermont that much of America's natural beauty is to be found, even to this day.
Furthermore the philosophies of American poets like Whitman and Emerson are akin to Asian Taoism, which calls for yielding to the path of nature or cosmic consciousness. However, Hrbacek's love for humanizing tree motifs relates to ancient Greek philosophy, mythology and visual arts. This tendency is observed in her work Woman Astride, 2008, (acrylic on linen, 42 x 48″) in which the bark colored blue at the bottom, appears like a shell out of which emerges a seemingly female form. Another work that is suggestive of human sentiment is Entwined, 2007 (Acrylic on linen, 40×44″) in which two trees hug, twisting and turning to become one. Hrbacek's painted line is sculptural in the sense that the expert yet un-academic chiaroscuro gives her subjects form and tactility.
This shading is produced not in nuanced shades of dark to light similar tones of coloration, but rather through rich impastos of related color. This is different than the Dutch soup of the old masters that sought transparency, in that it is solid, sensuously applied and thickly layered. In Hrbacek's tree paintings there is a resulting tension between the flatness of the backgrounds and the solidity of the trees executed by the artist's individualistic sense of mass.
Hrbacek photographs unusual flora that inspire her to re-interpret them into her own creations, that at times remind one of the human torso, or some human behavior like hugging. She depicts them in silhouette against expansive blue, gray, silver, or gold backgrounds. In Hrbacek's Hanging Suspended, 2008 (Acrylic on linen, 40×44″) the resulting tree-man whose torso hangs with its trunk headless and upside down, appears seeped of color. Its grey lilac tones and withered branches are reminiscent of death, recalling the abandonment and lack of human presence of the cracked house, in Cezanne's House of the Hanged Man, 1873.
Hrbacek both celebrates and critiques nature, while recognizing its ability to represent freedom, independence and a democratic way of life, as did Whitman, Emerson and the Enlightenment humanists.