D. Dominick Lombardi
D. Dominick Lombardi is represented by Kim Foster Gallery in New York, NY and Prince Gallery in Copenhagen, Denmark. Since 1978, Lombardi has curated over 100 exhibitions in a variety of museums and galleries. Titles include: Water Over the Bridge, Tondo, Tondo, Tondo, Duchamp's Plumbing, Shaky Ground, reVision, Through the Veil of the Soul,  HEAD, Eye on the Storm, In Their Own World, Monkey Spoon, Anonymous, Bóm: How art can disrupt, reorient or destroy, Fear is a Four Letter Word, Speaking in Strings: Ken Butler and Kurt Coble, Critics Select I & II, Over the Top – Under the Rug, FUNKADELICIDE, The Impact of War, The Waking Dream, The Tradition  of  Icons and Champions of Modernism: Non-Objective Art of the 1930s & 40s and Its Legacy. For past 21 years, Lombardi's 400 plus features, interviews and art reviews have appeared in such publications as as The New York Times (1998-2005), The Huffington Post (2012-present), ARTslant (2012-14), Art in Asia (S. Korea) (2007-09), Public Art and Ecology (China) (2011-12), Sculpture (1999-present), dART (2005-present), Art Papers (2004), ARTnews (1997), ARTlies (2004-09), Juxtapoz (2002), New Art Examiner (1997-98), Night (1996-97), Art New England (1997-99), NYARTS magazine (2004-09) and culturecatch.com (2006-present) among others.
Dominique Nahas
Dominique Nahas is an independent curator and critic based in Manhattan. He teaches critical studies at Pratt institute. He is currently writing books on the work of artists Allison Stewart and Amer Kobaslija.
Christopher Hart Chambers
Christopher Hart Chambers is an artist based in NYC. He also writes about art for several periodicals and occasio-nally curates exhibitions. Last year the Nassau County Museum of Art's Contemporary Gallery featured a solo exhibition of his work. Also last year he co-curated with Al Diaz the Graffiti Street Art exhibition at the Bishop Gallery in Bedstuy, NY. www.christopherchambers.com
Emese Krunák-Hajagos
Emese Krunák-Hajagos is an art writer with publications in dArt International magazine (Toronto/Montreal/New York/San Antonio), NY Arts (New York), Artes Magazine (Connecticut), Huma 3 (Madrid/Venice), Balkon (Budapest), Interpress Graphic (London/Prague/Budapest). She writes in English and Hungarian and a few of her articles are translated into Spanish. She is member of the International Association of Art Critics (AICA). Emese is co-founder and co-publisher of artoronto.ca, an online art magazine covering the visual art scene in Toronto. Her holistic approach brings together the history, philosophy and cultural atmosphere of the times, providing a more complex understanding of the art. She lives in Toronto.
Siba Kumar Das
Siba Kumar Das is a former Indian diplomat and a United Nations official who writes about art – an interesting thing to do when a global art is coming into being. Serving the United Nations Development Program in New York and several developing countries, he addressed global development challenges at international and local levels, concentrating on poverty eradication and the reduction of inequalities and exclusion. He now lives in the United States as a citizen, splitting his time between New York City and upstate New York. He has published articles on artists living in the Upper Delaware Valley, and is presently focusing on art in a more global context. His experience in development and interest in art has brought home to him that artistic creation and development success are born in similar crucibles.
Gae Savannah
Gae Savannah is a sculptor/writer based in New York City. She works
in new materials including plastics. Savannah also writes for Sculpture magazine. She teaches Contemporary Art, Film, and Writing in the MFA program at School of Visual Arts.
Mary Hrbacek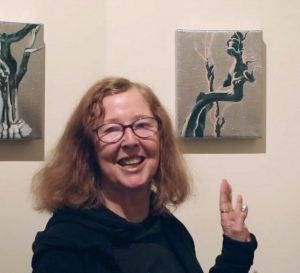 Mary Hrbacek is a member of the International Association of Art Critics (aica – usa), since 2013. She has written more thant 400 analytical reviews of NY art exhibitions during the past 21 years.She has contributed art reviews for publications that include whitehotmagazine.com, The M Magagazine, NY Arts Magazine, dArt International, Resolve 40 Online Magazine, culturecatch.com, and  NYartbeat.com. Hrbacek has been exhibiting artwork for more than 35 years at galleries and museums in New York City, across the United States, in Europe and in Asia. Museum shows include those at The National Academy of Design, and The Muscarelle Museum of the College of William and Mary, where she was awarded the Juror's Choice prize by the Director of the Drawing Center, NYC. In 2005 Hrbacek showed at the Parrish Art Museum in an exhibition curated by Sara Nightingale. Her solo exhibition was a charchoal drawing show at Roger Smith in 2006. She has had four solo exhibitions at Creon, NYC including Peopled Forest of My Mind, curated by Elga Wimmer and Life Before Life on view in 2015.  Her show, Vital Connections, curated by Suechung Koh appeared at Gallery D'Arte, NYC. Paris Koh Fine Arts presented, "The Painted Veil That Those Who Live Call Life" in NYC, 2017. Elga Wimmer PCC curated, "Mary Hrbacek: Human Nature: Pefka and Sycamore," NYC in 2020. Her paintings have been included in more than 30 group exhibits in New York City, Toronto, California, Georgia, Tennessee, Texas, Utah, Virginia, Canada and South Korea. Hrbacek's work may viewed at: https://www.maryhrbacek.com and artesmagazine.com
Julie Garisto
A Largo High and USF grad who's currently enrolled in University of Tampa's Creative Writing MFA program, Julie Garisto is an assistant editor/contributor at the central Florida nonprofit arts agency Creative Pinellas, where she covers arts and music events. Julie also contributes to the Tampa Bay Times as well as other publications. She served as arts and entertainment editor for Creative Loafing (2010-2015).