A Retrospective, 1966-2021 at theCatherine Fosnot Art Gallery and Center in New London, CT from September 23 to November 13, 2021
by John Mendelsohn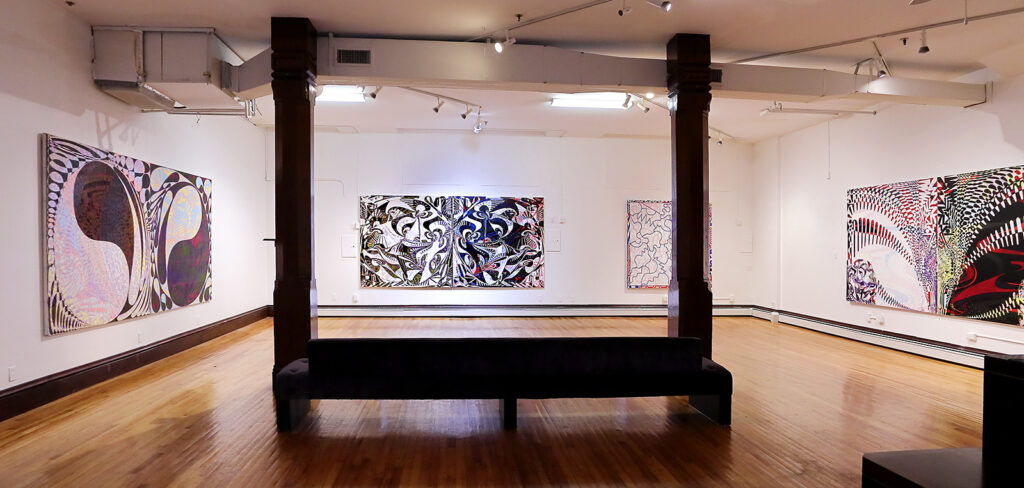 To create a retrospective exhibition of an artist's work is to tell a story. It embodies a desire to shape the raw material of work made over many years into an inevitable, convincing narrative. The challenge is to not tell a tale so intriguing that it becomes more compelling than spirit of the art itself.
In the case of Fred Gutzeit: Deep Nature Unfolded at the Catherine Fosnot Art Gallery and Center in New London, CT, the narrative focuses on the artist's fascination with the visible world and the invisible mathematical structures that lie beneath it. Seeing the world as an energic matrix is described as an animating motivation for Gutzeit. But equally, when looking at the art, we intuit the artist's need to make something that looks like the mind at work. His art is an immersion in the swimming, propulsive movements of both nature and human nature, with all their contradictory impulses on full display.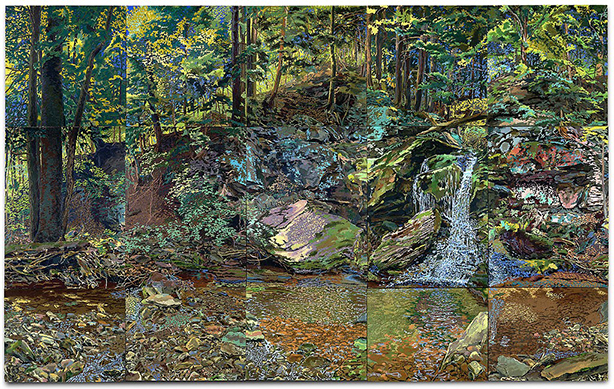 The exhibition covers 55 years of paintings, drawings, and prints, beginning with a series of fifteen finely executed watercolors of the wild environment – rocks, trees, and waterfalls. The same scenes are also depicted in Barbara's Falls (1999), a similarly formatted grid painting in oil, whose disjunctions of time and perspective are incorporated into the composition. Not in the exhibition are the artist's meticulous paintings of sidewalk pavement from the mid-1970s and portraits of dogs from the early 1990s. All of this work has a keen sense of close, almost obsessive looking, along with a compulsion to record it.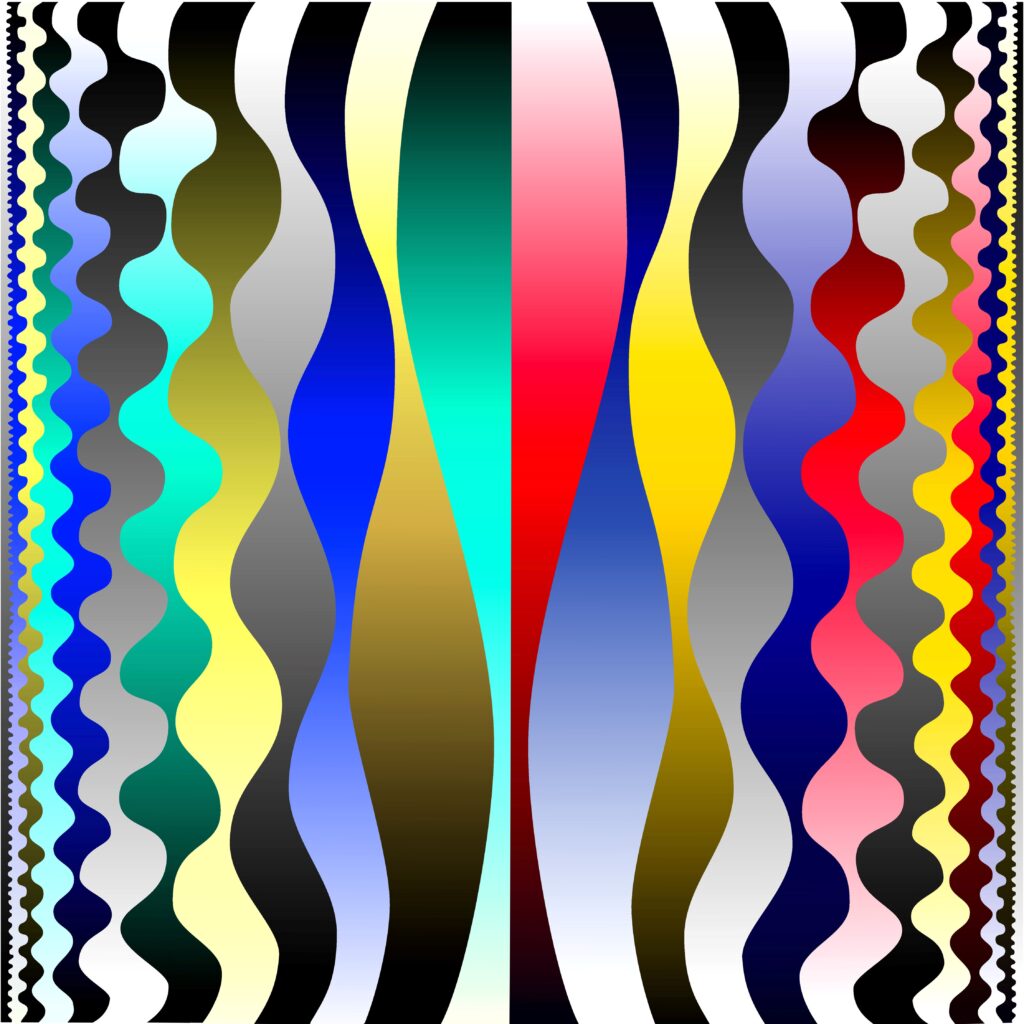 A curious, momentous realization for Gutzeit in the early 2000s was seeing into nature's visually rhythmic phenomena, such as rippling water and the bark of an oak tree, and reimagining them as graphic patterns that resembled the waves and distorted grids of Op Art. Simultaneously, two more factors were influencing Gutzeit's paintings: mathematical representations of space/time, and the digital processing of images. The mathematical models that intrigued him were of Calabi-Yau Manifolds, representing folded space, whose properties apply to theoretical physics, particularly in superstring theory. These forms appear in the work as vortexes of energy, bulging, twisting, and reforming in constant flux.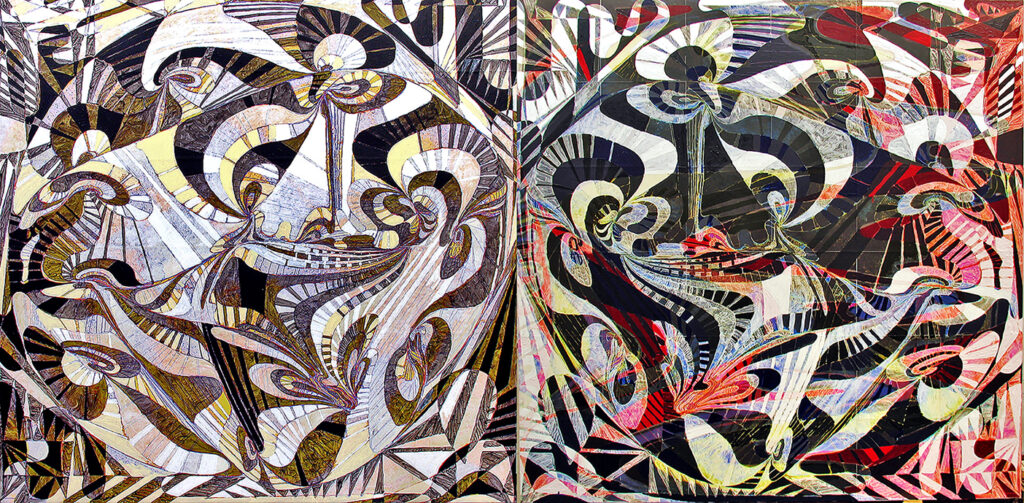 Gutzeit's paintings in the exhibition's largest gallery have this quality of manic transformation fully revealed. Digital images of unfurling geometric patterns are bent and deformed as if slow moving plasma. The original digital outputting has been tiled and affixed to the canvas, and made into a continuous image. However, Gutzeit is not content with the complex elegance of the original geometry. Rather forms are often mirrored, but with unexpected shifts from one side to the other, and with fractal-like repetitions appearing at radically changing scales.
Additionally, the artist displays in his paintings a range of realities of representation: computer-aided alteration of liquid geometry, painted areas that are then scanned and outputted, and painting directly onto digitally printed surfaces. The result is a kind of delirium of perception, a conundrum of what is actual. In his use of computer graphics in his art, Gutzeit shares with a growing number of contemporary artists an interest in melding digital technology with the analogue tactility of painting.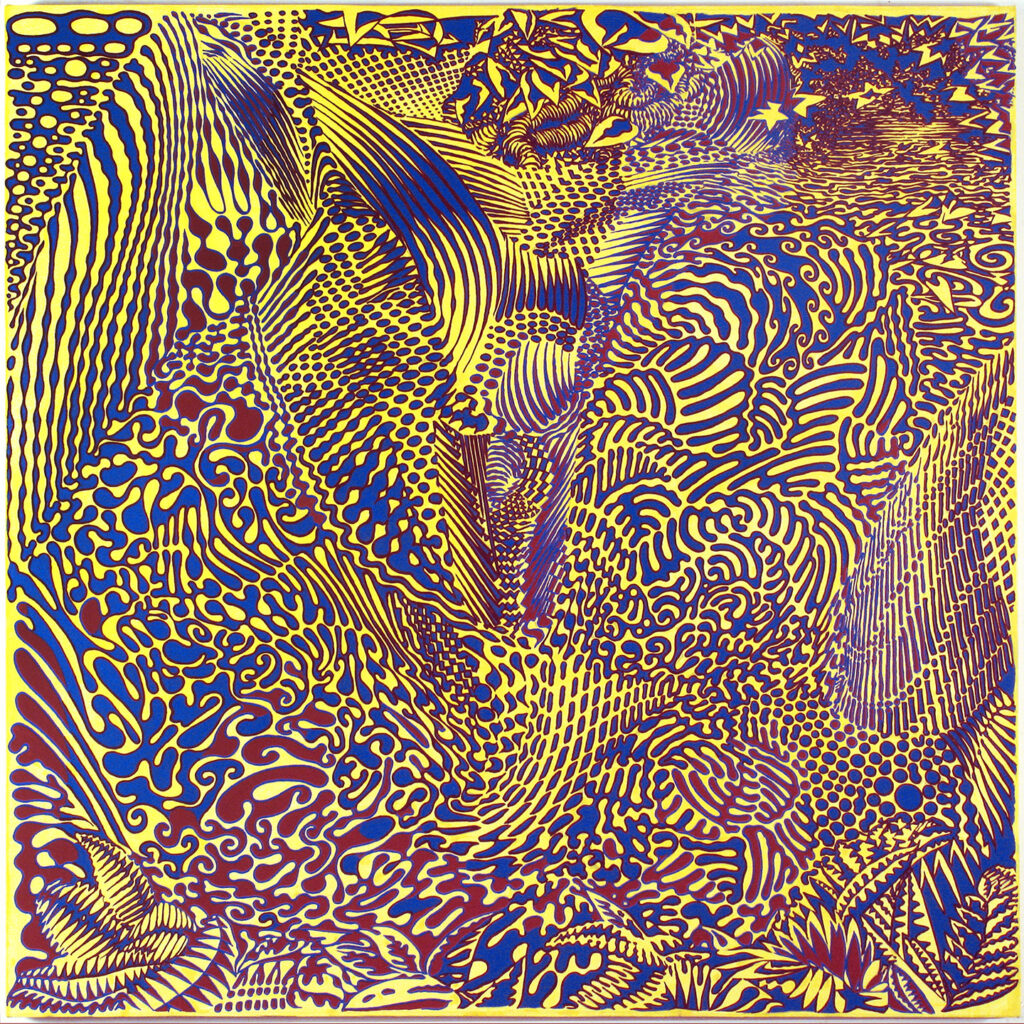 In the most recent works in the exhibition, Gutzeit uses the signature of individuals writing their initials as the basis for drawings and paintings. The signatures turn into multi-colored arabesques, arrayed against flooding watercolor or intensely patterned fields. While capturing something of each person who has provided his or her initials, we sense that individuality is being subsumed in a coloristic spectacle, the self is lost to abstract transfiguration. Larger grid paintings combine many of the signature pieces in miniature, and overlaid by linear tracery, with the individual joining a mass of impersonal energy. The eccentric play in these works is central to Gutzeit's infatuation with permutation and perpetual making that is its own reward.
There is a sense in this artist's paintings of a consciousness at work, revealing itself through the warping of form and feeling. A joyous, driven quality of over-muchness expresses itself in these paintings. The ordered and the organic, the grotesque and the elegant, anxiety and a kind of high-spirited humor all go hand-in-hand. These poetic works constitute a waking dream: geometry dances with wildness and the self is reunited with the natural.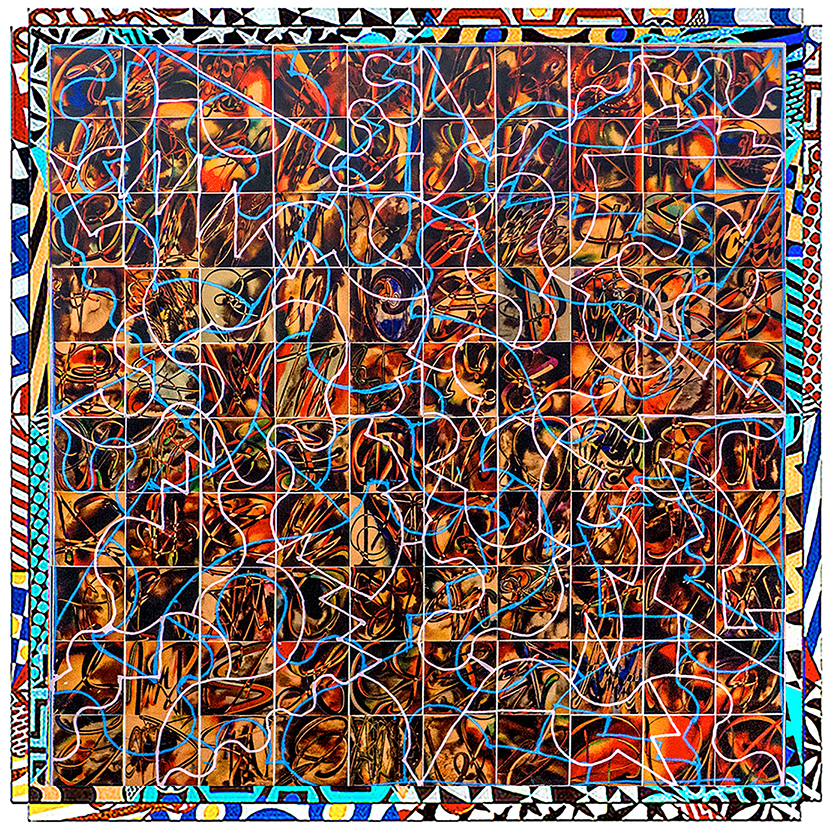 For all the evocations in this exhibition of folded space, multi-verses, and deep nature, we are finally left with the paintings themselves – personal, emphatic expressions in whose art is an intimation of human mysteries beyond ordinary apprehension.