by John Mendelsohn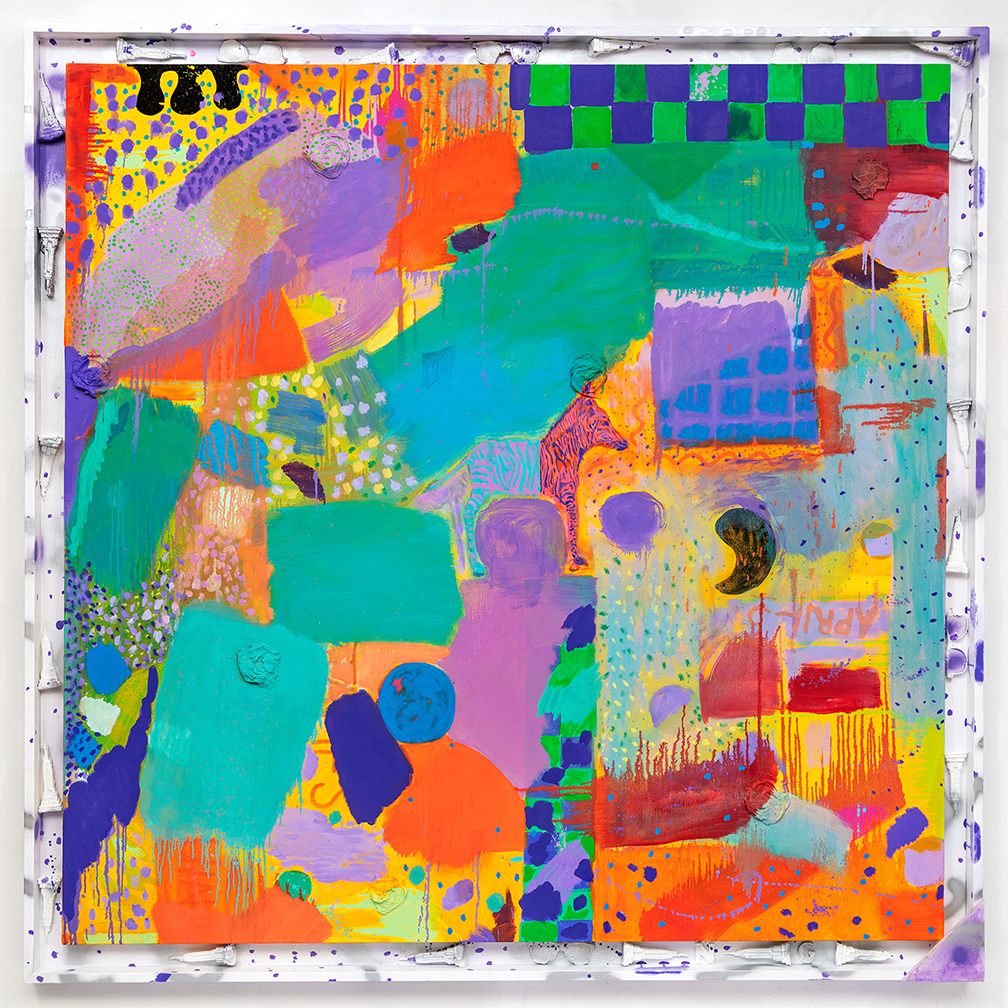 Nora Griffins's paintings are scrappy, high-spirited, improvised works that feel like visual diaries of life on the run. Saturated color, woozy pattern, and images of fish, animals, and art pile up and jostle for a place in the sun. Surrounded by artist frames, which serve as shelves for a variety of objects, the four nearly six-foot square paintings and four smaller works are a kind of declaration of independence for this artist. They bring together ideas and motifs of her earlier work, but here with an expansive, imaginative panache and free-wheeling energy.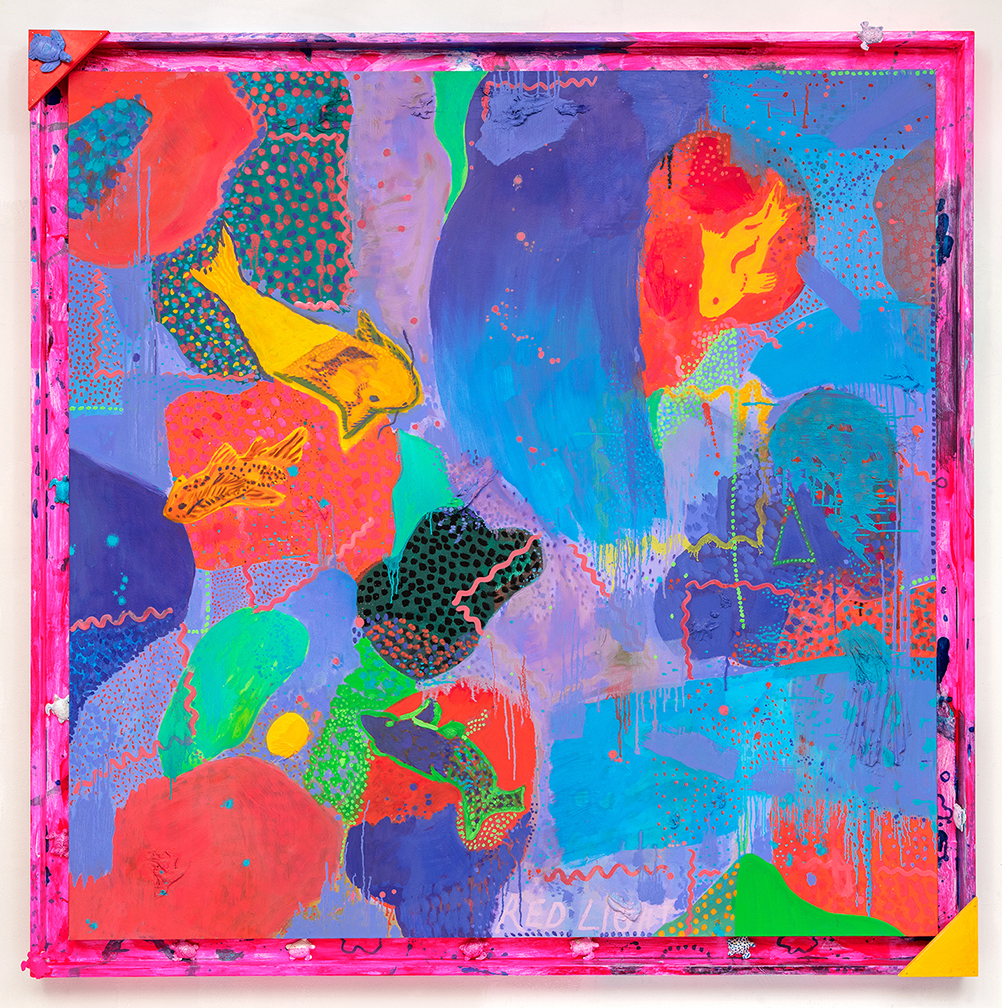 In the painting Koi, zones of blues and purples are set off by free-form areas of cadmium red, creating a patchwork pool for the swimming goldfish. This painting shares with Empire State (Zebra) a kind of psychedelic intensity, with each form or space between becoming a place to record an impression of the fleeting world or a painterly sensation. A series of cascading, irregular blocks in green are echoed in a variety of smaller grids, all of which contrast with sections of yellow and aqua animated by daubed speckles. At the center of all the antic activity is a serene, multi-colored zebra.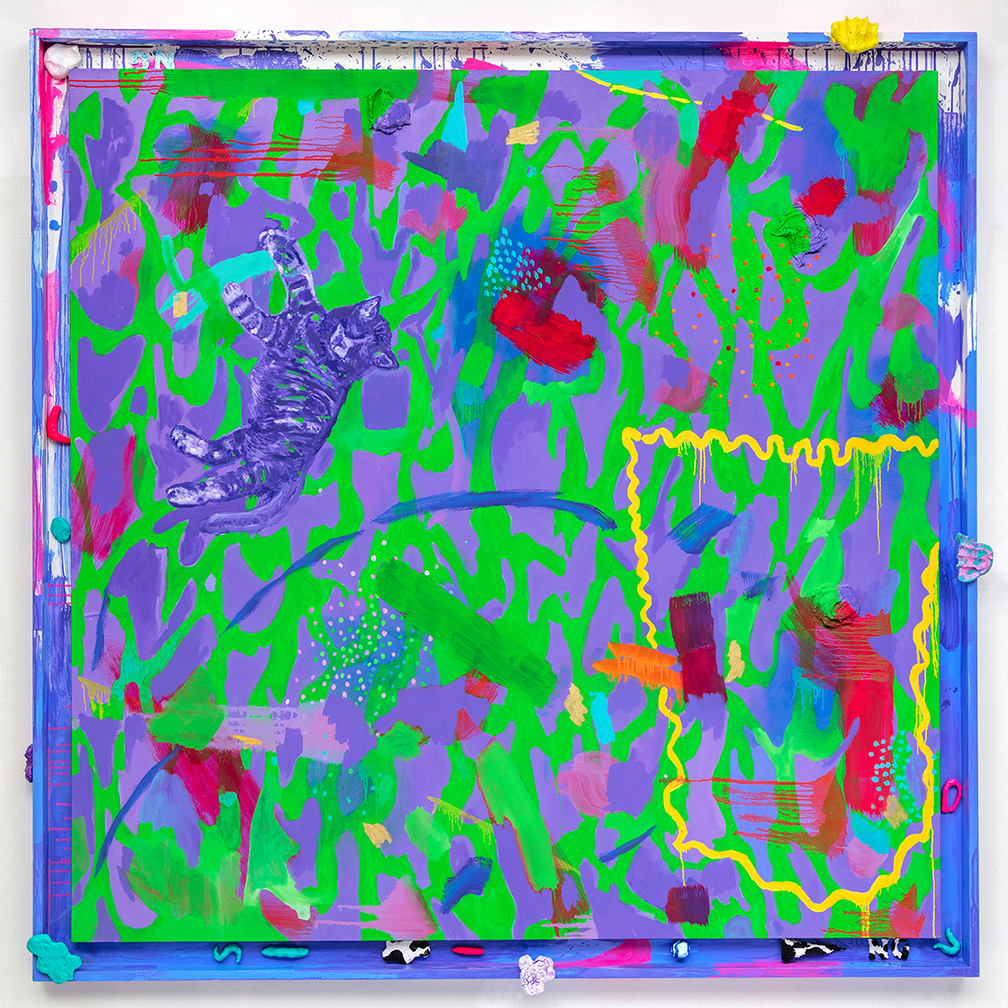 Liquid Days (zzz Cat) is a painting dominated by a looping lattice in Grannie Smith apple green and lavender, with flashes of purplish red. On top of this field, lounges a tabby cat in tones of purple. A crenelated outline in yellow haunts like a phantom presence, along with the sculpted palm prints that hang on the gesturally painted frame. Altogether, the result is an immersion in trippy high-jinx, a feeling of crazy, ordinary freedom.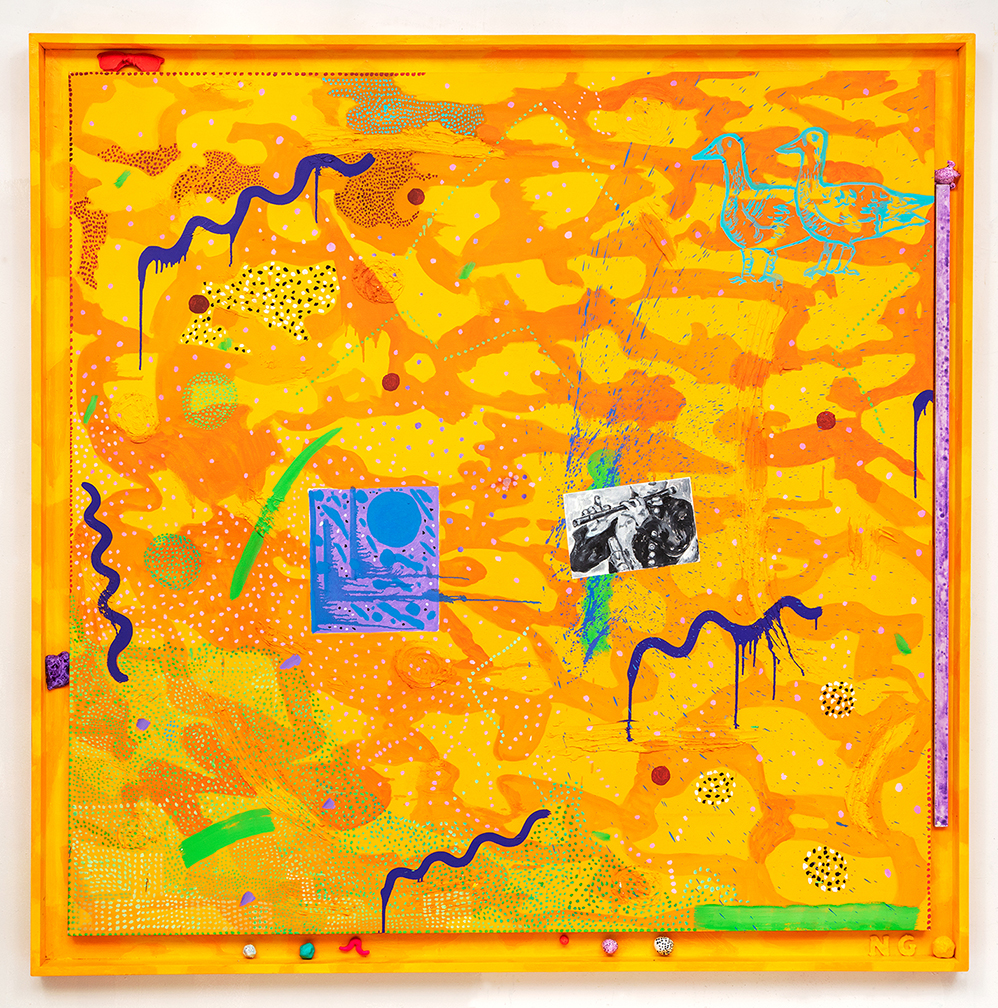 The fourth large painting, Glass Flute, has a water-like rippling pattern in yellow and yellow-orange, overlaid by three images: two outlined ducks, an inset that looks like a quotation from one of the artist's earlier works, and a detail from the Manet painting, The Fifer, here in grisaille. The combination of all these elements is cryptic, evoking the kind of mental conundrum that David Salle has specialized in. But here, the loosely rendered images and the funky abstract squiggles and dottings reveal the artist's idiosyncratic touch, suggesting a receptive spirit that is open to the multifarious gifts that the world is continually offering.
In Griffin's paintings, large-scale visual exuberance carries in its wake signs of the artist's personal affinities. Together they create a theater of the artist's inner world, made accessible and public-facing. Her impromptu, reckless works convey a feeling of charged avidity for a life that she wants to share with us.
The sense of Griffin's personal stake in these paintings is embodied in their every aspect, including the objects lodged in the frames, suggesting both private revelation and a guarding of the extraordinary act of self-exposure that painting entails. The objects surrounding the canvases, à la Jasper Johns, include painted eyeglasses, turtles, palm prints, the artist's initials, and souvenir Statues of Liberty, which give the whole enterprise a rakish New York City vibe.
In these works, Nora Griffin melds a number of different impulses: a devil-may-care rawness, using paint as a blunt instrument of sensation, a desire to create a personal dream-logic from juxtaposed color and image, and an affirmation that painting can be a poetic art that is on the street, in the museum, and in the heart, all at once.
Nora Griffin / Liquid Days at Fierman West, 19 Pike Street, New York, NY from June 3 to July 2, 2022.