by John Mendelsohn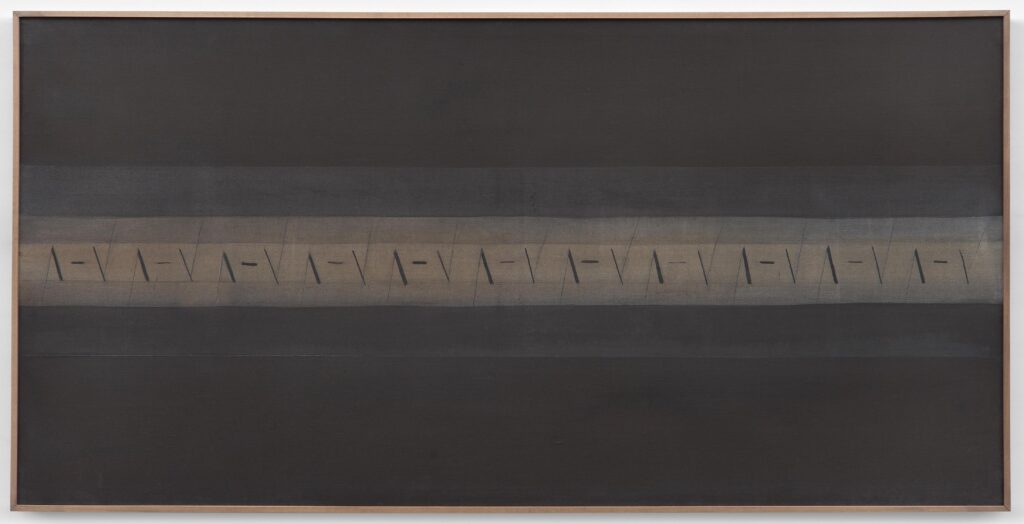 New York has a rare opportunity to see the work of the Italian modernist Bice Lazzari (1900-1981). The Mark & The Measure, the title of the exhibition at kaufmann repetto, organized with Richard Saltoun Gallery, captures the essential elements of Lazzari's art – an intimate touch and an intuitive sense of visual structure. Together they combine to create works of unusual delicacy and power, animated by a musical pulse and emotive overtones. Over time, Lazzari's abstract work evolved from gestural paintings, to strongly material pieces, to rhythmic, minimalist statements.
Lazzari wrote, "In paintings, I love light, space, rigor, structure, synthesis … and a little poetry." The work in this survey exhibition, spanning the last four decades of her career, displays all of these qualities, and a pervasive, personal sense of mystery. This feeling is conveyed in the title of Laura Cherubini's essay, Bice Lazzari: The Inner Life of Signs. In her essay, Cherubini points to specific influences on the artist's work, and to a "lucid and epiphanic condensation of memory" (quoting Marisa Vescovo), that her work embodies.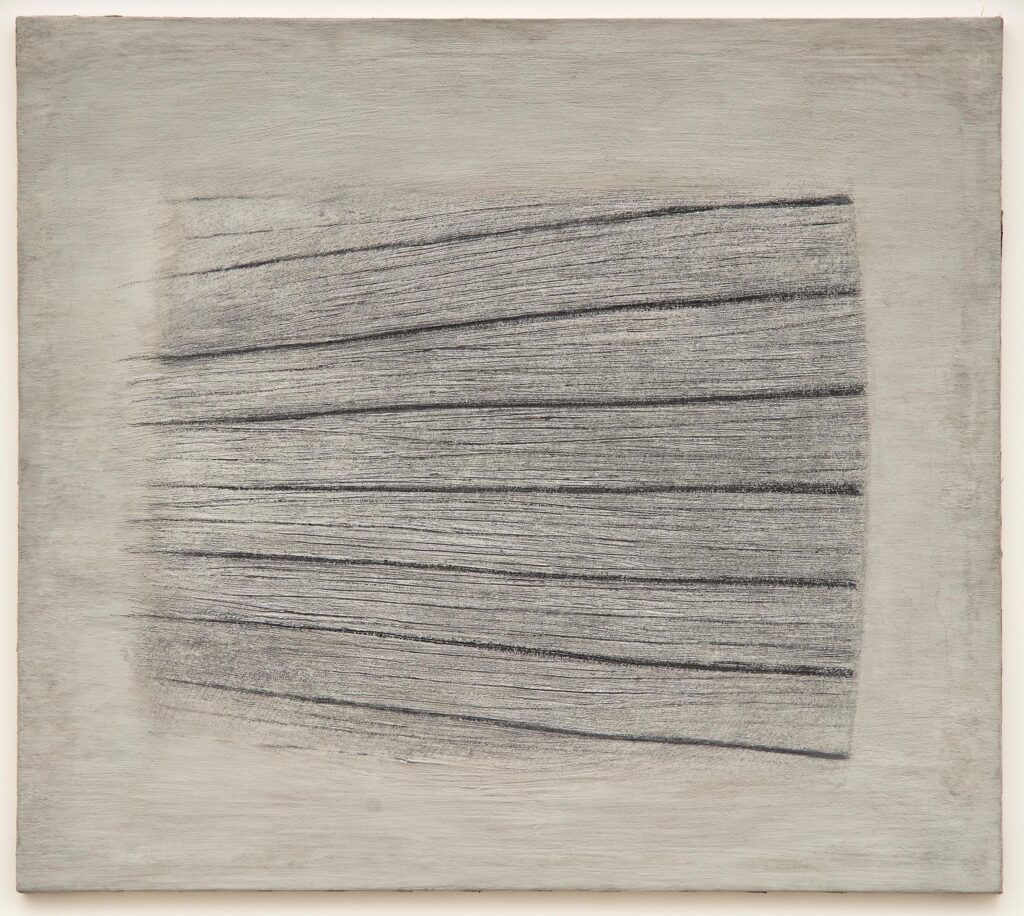 Among the memories that shaped Lazzari's paintings are her years working in the applied arts of weaving, textiles, mosaics, and murals, collaborating with Italian architects and designers. This work liberated Lazzari from her early training in figurative painting, opening her to the possibilities of geometric design and abstraction. The creation of continuous visual fields and an awareness that art was one with architectural space would go on to inform her paintings. Particularly resonant of this period is Lazzari's Untitled from 1949 (the titles are translated from the Italian), a minimalist grid in deep red and black tempera on paper.
Beginning in the 1950s, Lazzari was able to devote herself to painting, first to geometric abstraction and then to gestural works, such as Night Writing, a storm of agitated, slashing strokes. Collage 1, with its blocky, emphatic forms and raw texture seems informed by both the "matter painting" and angst of post-war Italy's Informalism.
Lazzari was born in Venice in 1900, where she studied the violin as a child. She moved to Rome in 1935, where she lived for the next five decades. Music's ongoing influence emerged after a period of crisis, in the new direction Lazzari embarked on in 1964. There is a sense of fugitive feeling embedded in the physical surfaces of these works, such as Testimony, an atmosphere of tonalities that emerge from the surface of tempera, glue, and sand on canvas.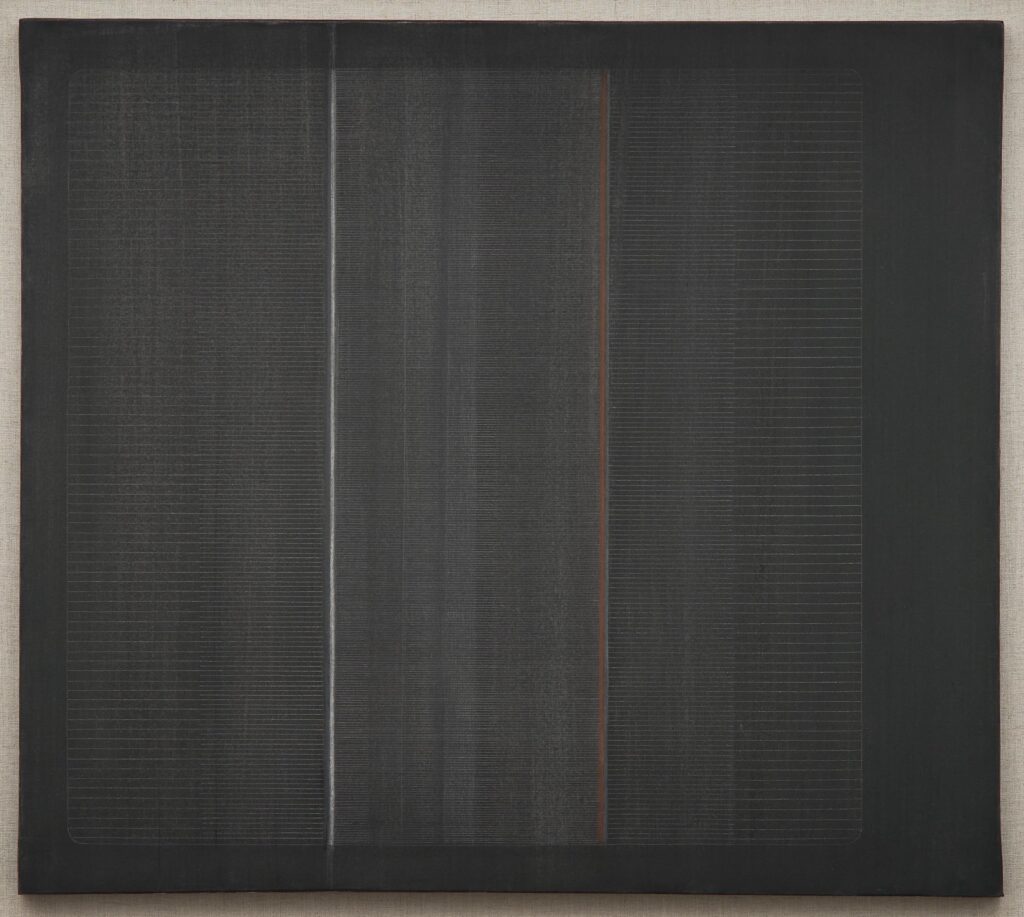 Similarly, in the powerful Sequence 3, a series of seven dark lines recede in perspective, suspended in a field of striations, that itself hovers like a vignette in a dream. The effect is that of an existential declaration of both individual agency and enveloping impermanence.
From the late 1960s, until the end of her life, Lazzari's work incorporated the structural, the musical, and the lightness of material form in works that are by turn spare and intense, minimal and maximal. Untitled from 1967, paradoxically dense and subtle, is a dark, minimally woven field with extremely fine lines of lighter weft, divided into three columns by two warp lines in red and white.
In Untitled (Q-435) from 1972-73, dark space is traversed by tonal bands, the lightest of which is demarcated by a sequence of light and bold backslashes and dashes, alternating with blocks of emptiness. It is unaccountably moving, like a message in transit, sent out in the night, with and without hope of being heard.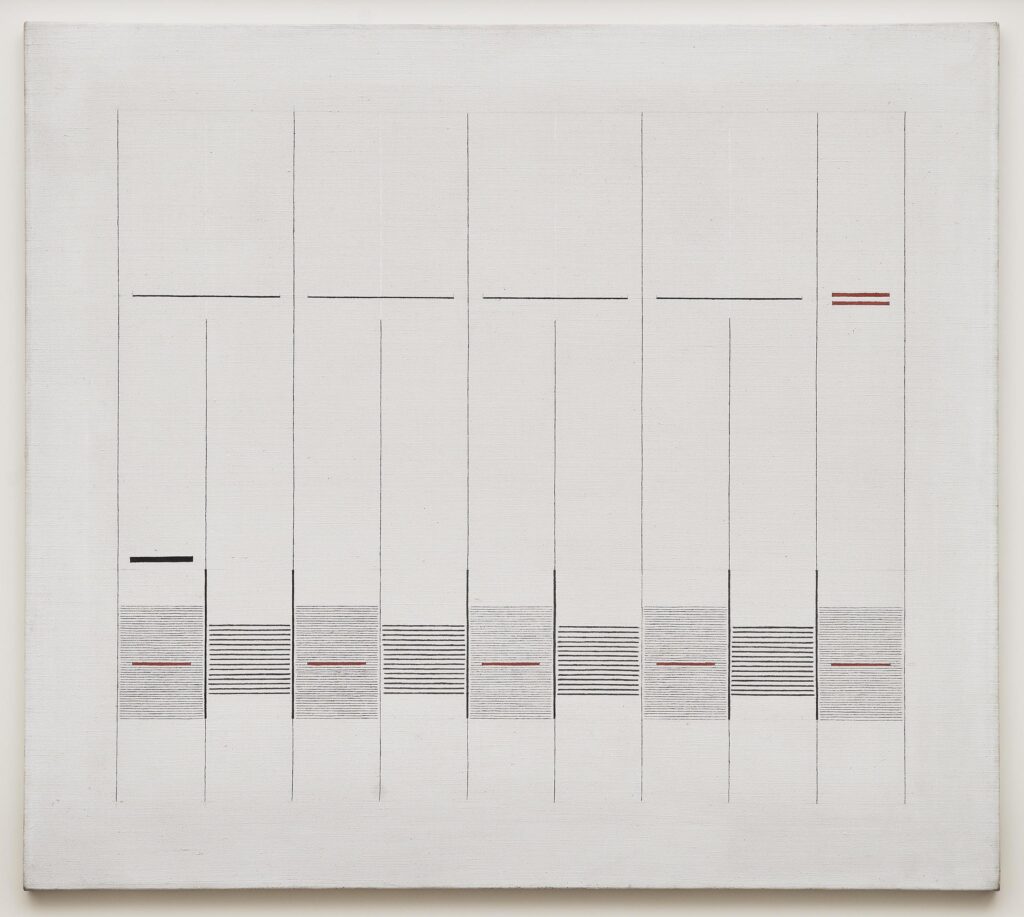 Acrylic no. 6 from 1975 is both like the score and the playing of a musical composition, whose notes are fine and finer lines in black and red, shivering with the slight vibrato of the artist's hand. A strict sequence is established, and then interrupted by two small, surprising anomalies that resonate in a vast white silence.
As Bice Lazzari wrote, "everything that moves in space is measurement and poetry. Painting searches in signs and color for the rhythm of these two forces, aiding and noting their fusion."
Bice Lazzari: The Mark & The Measure (Selected Works from 1939-1978): kaufmann repetto, 55 Walker St., New York – May 12-June 17, 2023