by D. Dominick Lombardi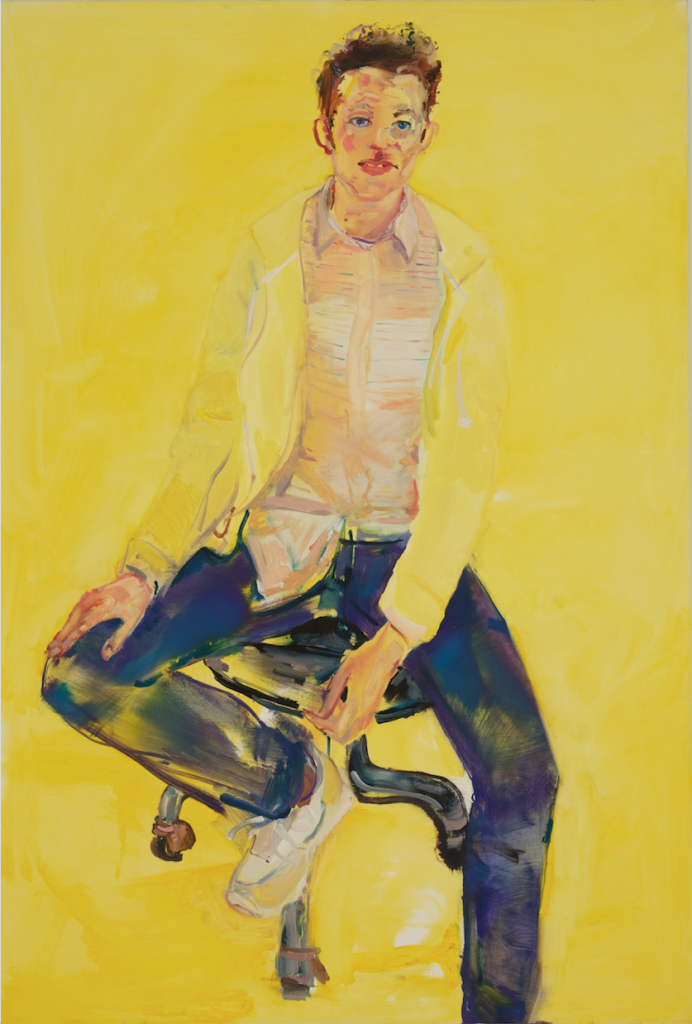 The Samuel Dorsky Museum of Art stands as a consistent reminder that a regional museum can play a major role in the presentation and understanding of Contemporary Art, as well as offering a showplace for antiquity and Modern Art. Currently, the museum features four outstanding exhibitions that are presented thoughtfully and with a very high level of professionalism.
First, is the energetic and inviting painting exhibition Just My Type: Angela Dufresne. In it, are a number of life-sized portraits that begin with a half dozen multi-layered room-scapes dominated by a lone and oft times luxuriating figure. In each, we see overlapping veils of color, line and wash-based abstraction executed in thin, fluid oil paint. Gradually and effortlessly Dufresne's painterly references directly and indirectly elicit form and depth, ultimately translating into an interior setting. This all comes about much in the same way a sculptor may work, beginning with a wire or wooden armature with the intent of adding more 'solid' materials to flesh out the forms. When considering the narrative elements here, paintings such as David Humphrey (2009) and Leigh Ledare (2007) show figures in repose, as one can assume, after a long day of exhausting creative activity. That unique combination of semi-transparent representation and 'artist as subject' gives these works their characteristic unpredictability – as they are more like a conversation between two creative minds than a portrait of a lone, posing or distracted individual.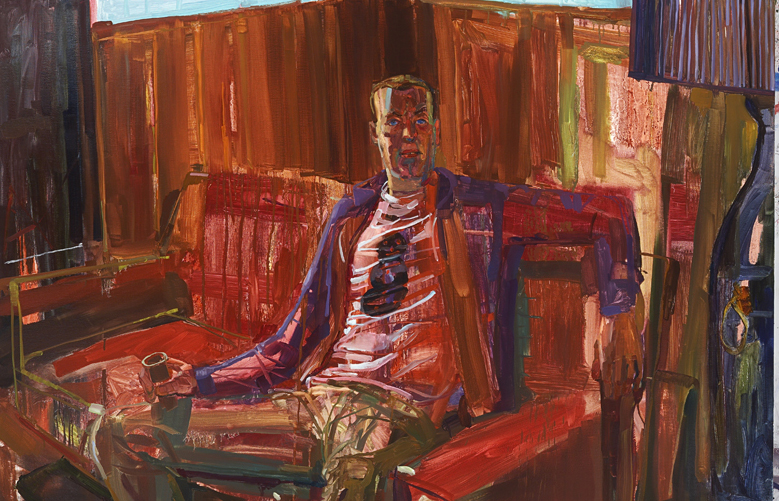 Other examples of portraiture, such as Tomaso de Luca (2017), Kerry Downey (2016) and William E. Jones (2017), have much simpler backgrounds than the aforementioned works. With the subjects surrounded by one color, you may begin to register certain details such as the strong spindly fingers and the bigger than life personalities that may lead one to consider the influence of Egon Schiele or Alice Neel. As a result, this more emotional type allows the personal traits of the subjects to dominate, thus enhancing the their individuality. On the other hand, the use of a monochromatic wash of color to surround the figures intensifies their focus, which in some instances, as in the portrait of Kerry Downey, puts forth a hint of anxiousness or impatience – not an unusual response to sitting still for a portrait.
Around the corner from this first exhibition is a show that features a new addition of art to the museum. In Celebration: A Recent Gift From the Photography Collection of Marcuse Pfeifer is a stunning display of intensely alluring black and white photography from the apex of Modernism to the late '80's. Included is Bernice Abbott's famous portrait James Joyce (from the series "Faces of the '20's") (1928), which combines the dynamics created by a subtle gesture, opposing angles and corralled visual voids with more than a bit of fashionable flair. Also from the same series, and in stark contrast to Joyce, is the imposing form of Princess Eugene Murat (1928) that forcefully divides the composition into two corresponding triangles. Alternatively, and from the same series, is Buddy Gilmore (1926-27) where we see the projection of pure joy through an obvious celebration of life and a love of music that shifts up and out of the picture plane in a series of circles, shadows and suggestive signals.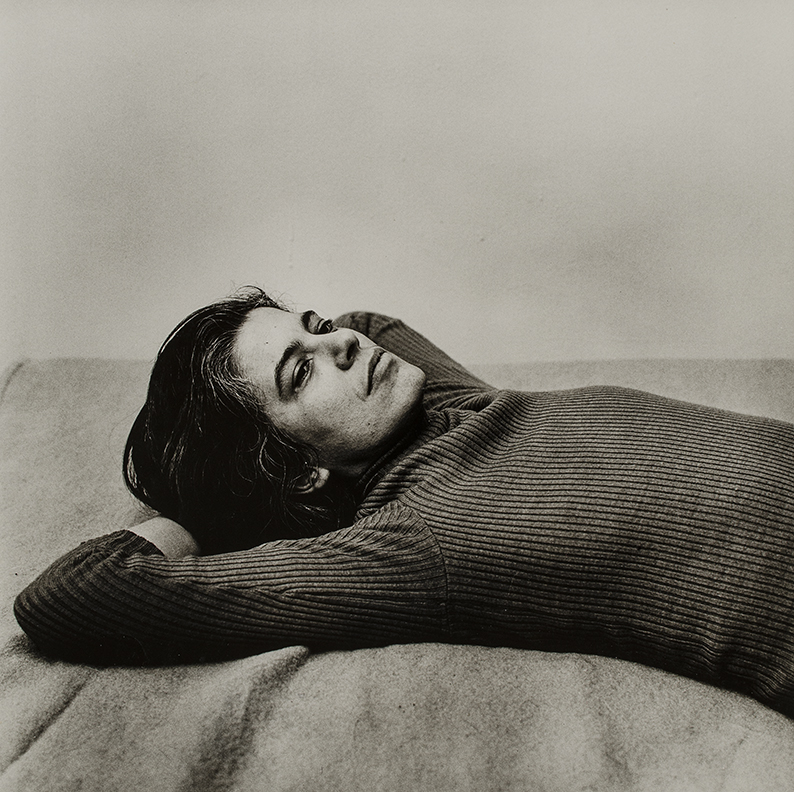 Max Yavno's Muscle Beach, Los Angeles (1949) and Cable car, San Francisco (1947) are wonderful, classic West Coast moments that are beautifully composed and impeccably nuanced. The work of Peter Hujar shows great versatility as he moves from the stone cold daunting geometry of New York: Sixth Avenue (I & II) (1976) to the thought filled serenity of Susan Sontag (1975). In both instances, the texture of the numerous parallel lines in Sontag's sweater and the striations in the New York City's looming behemoths links the aesthetic, while the starkness in the background above the skyscrapers and the reclining figure creates a palpable level of quietude.
August Sander offers a different level of contrast between the bleakness of the woman in Rural Bride (1921-22), and the sophisticated citified form in High School Student (1926), both clearly defining the era's varied levels of poverty and privilege.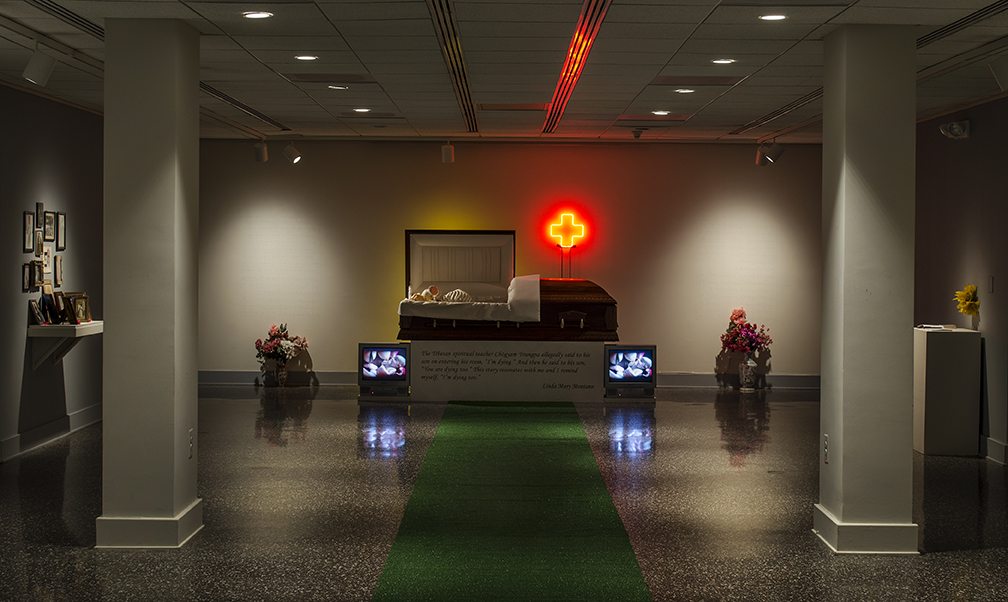 Of the other two exhibitions, one is a tribute to the 150th anniversary of nearby Mohonk Mountain House featuring wonderful archival photographs, plus student interpretations of various images of the past. Then there is an incredible, multi-faceted one-person exhibition by Linda Mary Montano titled The Art/Life Hospital. This exhibition references Montano's stellar career as a performance and installation artist, coupled with intriguing mixed media sculptures, wildly suggestive drawings, fascinating videos and a very active set of participatory chalk boards that key off the colors of the chakra. Much of what is here is the artist dealing with late-in-life issues and realizations as well as her life-long spiritual and faith based beliefs that fill the space with a very potent reality. The Art/Life Hospital was organized by Anastasia James, and runs through April 14, 2019.
Mohonk Mountain House at 150; Just My Type: Angela Dufresne, which was curated by Anastasia James and Melissa Ragona; and In Celebration: A Recent Gift From the Photography Collection of Marcuse Pfeifer, which was curated by Wayne Lempka, all are on display through July 14, 2019. The Samuel Dorsky Museum of Art is located on the campus of the State University of New York at New Paltz at 1 Hawk Drive. There are a number of events planned during the run of these four exhibitions, so please visit the museum's website for more details: https://www.newpaltz.edu/museum/