by D. Dominick Lombardi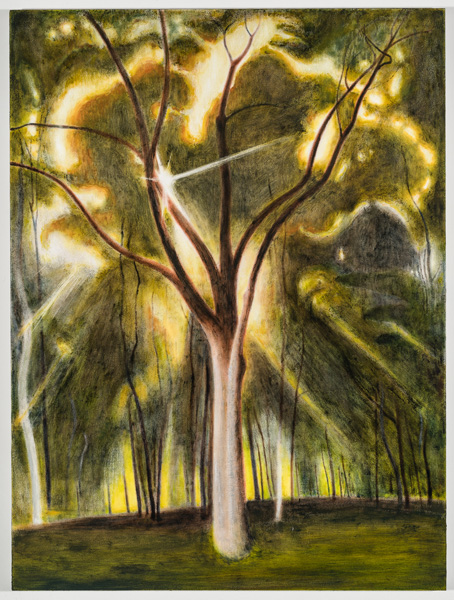 The current offering at John Davis Gallery is the ideal combination of excellent art and a carefully prepared and perfectly installed exhibition. As a result, Ron Milewicz strikingly beautiful landscapes immediately capture and hold your attention as you enter the space. Opposite the entrance of the gallery hangs the most spiritual work in the show, Sun and Oak (2019). This modestly sized oil on panel will at first remind some of the visionary works of Charles Burchfield. The difference in Milewicz's art lies in the more earthly nature of his scenes, which are most often about the exceptionally quiet moments one can experience on this earth when communing quietly and alone with nature. In a way, both Burchfield and Milewicz have that innate ability to enlighten the viewer, only with Milewicz you have a more subtle transition that relies more on the viewer's past experiences than any otherworldly presumptions one might have. In that way, perhaps Milewicz's landscapes are closer to Peter Doig's paintings than Burchfield, sans the trippiness of Doig's intense palette.
Take for instance Three Trees (2018), perhaps a nod the ages old subject The Three Muses, where we see a most subtle mastery of a moment when space and time meld harmoniously into veils of consciousness. Our attention is subtly held as we are methodically brought to the fore from the left – then across – moving back through the quietly chilling space from the right as our eyes hop along a slowly fading arc. In paintings like Tree Stand (2017) you can really see the artist's mastery of his medium in the way he slowly, carefully and ever so lightly delivers his paints across the prepared textured surfaces of each panel. There is much movement here as well, as one of the far trees bows and bends to a sinuous path of light that plumes up and into the heavens.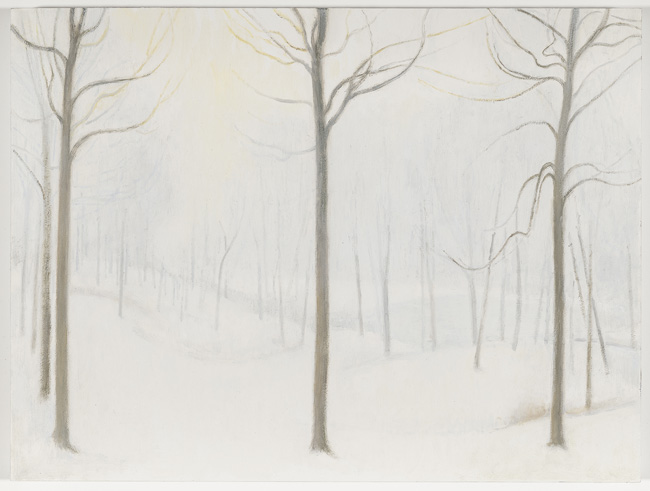 Fall (2017-19), which has a double meaning with its late autumn colors and an obvious silhouette of a fallen tree, is one of the more complex works in the exhibition. Mostly invigorated by overlapping triangle shapes of the distant tree line, the alternating angles and uprightness of the white, black, brown and gray leafless trees dance across and divide the composition into stages while that one dead tree and its hump of a root system adds more than a bit of life/death cycle to one's thoughts throughout. Late Winter Pond (2018) is the one work that has a bit more darkness to offer than Fall, as the oddly shaped pool of water is more like a heart shaped pit that blackens the earth while the soft moonlight disorients passers by wondering only where they might make an inconvenient misstep in this hauntingly serene setting.
Hanging in the lower level of the gallery are Milewicz earlier works, which are steely cityscapes of New York City's more industrial aspects contrasted by formidable skylines and an occasional tree or grassy hillside. In these works, the overlap with Milewicz landscapes is in the striking way the artist handles and distills detail, form and color to drive all of his oddly romantic narratives without a single soul in sight.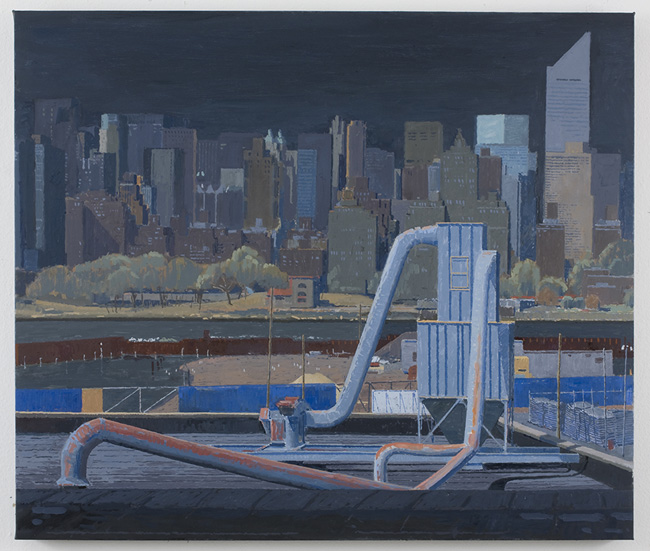 Ron Milewicz: Circumstances at John Davis Gallery, Hudson, NY. The exhibition ends March 24th. If you are in Hudson, be sure to see it.