by Siba Kumar Das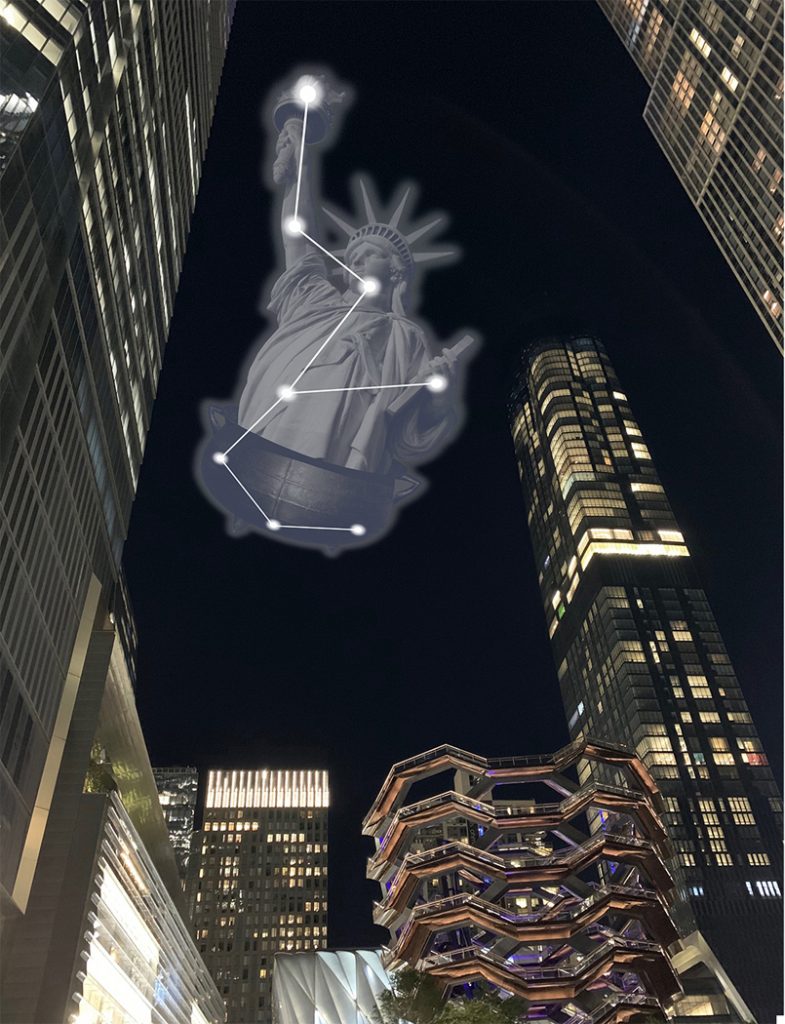 The Elga Wimmer favorites on display in her Chelsea gallery from December 7-21, 2019 are an eclectic group. But they also embody a unifying theme. What unites them is this: Conceptualism is still an important force but ideas must go hand in hand with physical product.
Richard Humann exemplifies the adventurousness of a neo-Conceptual artist who has taken to the technology of Augmented Reality to push viewers into a new artistic frontier – as The New York Times' Ted Loos suggested on November 27, 2019 in a review of an AR show projected above the High Line. That projection threw up 12 imaginary constellations in the sky. Of these, one – a constellation providing an armature to a partial image of the Statue of Liberty – was again projected above the High Line at the opening of A Few of My Favorite Things exhibit on December 7. The show displays a photograph of this AR art work, Sirenic Cauldron Over Hudson Yards. The wonder of the image bewitches you to ponder about Lady Liberty enlightening the world in today's political climate.
Also provocative is the work of New York-based German artist Heide Hatry, another neo-Conceptualist who makes novel use of materials such as animal skin, flesh, hair, and human ashes. Photographs of seven sculptures created this way are on show in the Elga Wimmer exhibit – all photographs included in Hatry's artist books that have attracted contributions from many writers and scholars and scientists. Look intently at, say, "Caudae, oculi piscium paullarum" (tails and eyes from small fish), and you will see the artist applying the fractal geometry that permeates nature. Nature's creative force lives even in death and decay, she seems to say.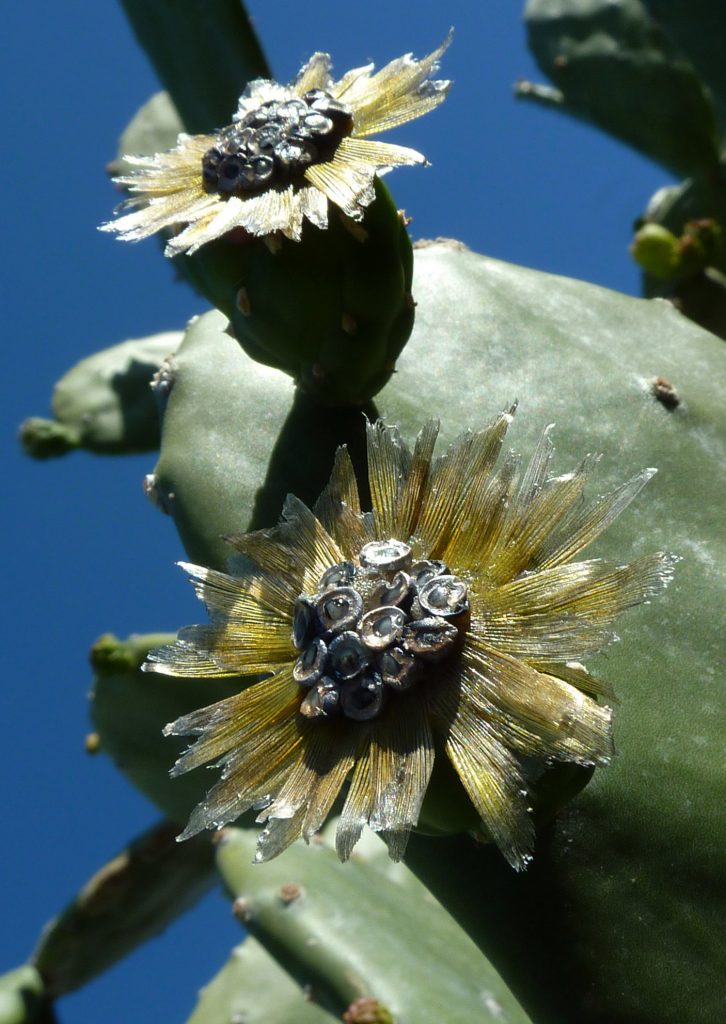 Ideas about harmony between humankind and nature permeate the art of Soon-yeal Young — a Korean artist whose work was spotlighted in Elga Wimmer solo shows in both 2018 and 2019. Anchored in the symbolized visuality of East Asian painting, Young's art is currently moving towards neo-Conceptualism. The "favorite things" show has two pieces of hers: a Scarlet Gomujul painting and an Ottogi sculpture. Both allude to peace, harmony, and spirituality, but the sculpture is especially evocative. Presenting a stylized, simplified female body, the piece, in line with Young's other Ottogi sculptures, embodies the idea of Mother Earth – an archetype, a primordial image, that the Jungian psychologist Erich Neumann explored in his magnum opus, The Great Mother. An Ottogi sculpture is like a roly-poly toy or a tumbler doll but it is more than a whimsical thing. At a time of existential angst arising from climate change and other burgeoning problems, it gives you instant access to a hugely significant intuition.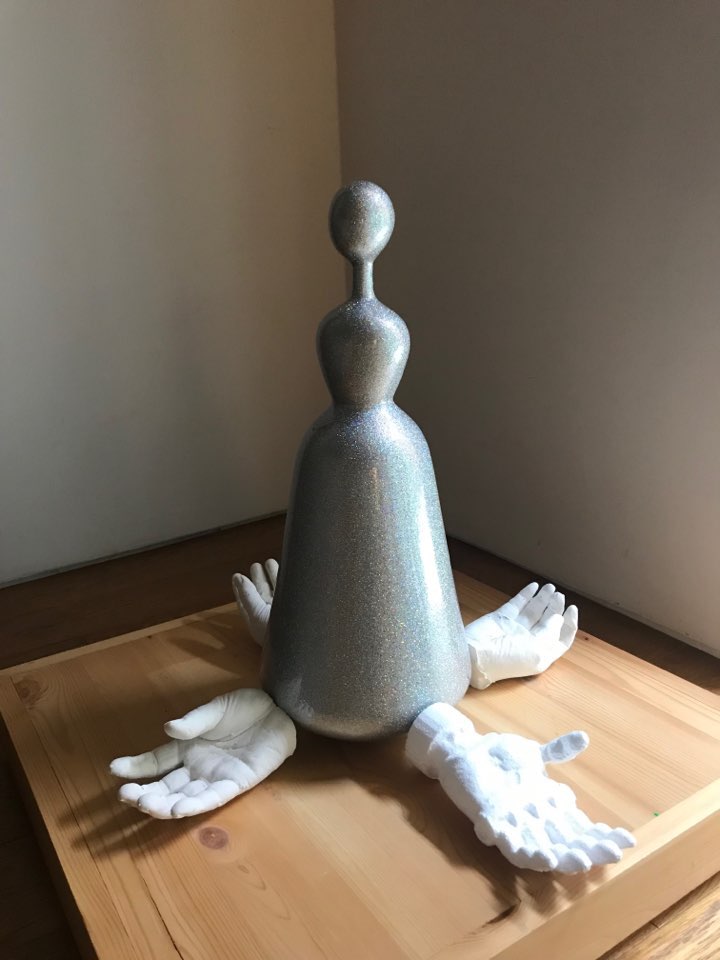 In part, the show in Elga Wimmer PCC is an homage to two celebrated artists who have recently passed away. On display is a panel of nine images recording Carolee Schneemann's favorite cat waking her up with a kiss. When the artist died in March 2019, The New York Times obituary saw her as "one of the most influential artists of the late 20th century." Think also of her achievement in the following terms: in pioneering performance art, Schneemann used her body as an artistic instrument reminding us thereby that artistic creation is an embodied thing. Moreover, Schneemann's sensual interaction with her cat tells us that all biological life is a single phenomenon. Elga Wimmer's close association with Schneemann spanned three decades and was instrumental in spreading the artist's influence. In 2017 Wimmer curated at the Venice Biennial Body and Soul — Performance Art Past and Present, which included Schneemann. The same Venice Biennial 2017 awarded the artist the Golden Lion for Lifetime Achievement.
Jonathan Singer, who too is being memorialized by Favorite Things, met Ansel Adams in the 1970s when he was a podiatric surgeon and found the encounter a life-changing experience. Years afterwards he devoted himself completely to photographing flowers and plants. In 2009 he published Botanica Magnifica: Portraits of the World's Most Extraordinary Flowers and Plants. In 2012 came Fine Bonsai: Art and Nature, which included the triptych that the Elga Wimmer show has now spotlighted along with a solo Bonsai photograph. The same year a New Jersey State Museum exhibit of a selection of Singer's photographs was curated by Karen Reeds, a historian of science. In discussing Singer's art, she said, "I see Jonathan as belonging to the tradition of the Dutch masters." This tribute surely speaks for itself. It is entirely appropriate that this short account of the artists selected by Elga Wimmer for her presentation of favorites should conclude with Lydia Dona, an American artist born in Romania. She is widely seen as a conceptual abstractionist – a neo-Conceptualist, in other words. Integrating line drawings into compositions dominated by gestural, expressive brush strokes, Dona combines abstraction with representation to give body to ideas thrown off by urban spaces that are at once pervaded by energy and rhythm and decay and breakdown. You could see her product as a metaphor of where we are today with this world of ours.