by Steve Rockwell
The title of this piece refers to articles published in the Winter 2001 edition of dArt. The "cosmopolitan" women depicted in the dArt site banner were part of the print layout as they appeared on page 44 of its print edition. Ghosting through from its page 43 verso is an image of Richard Klein's 1998 sculpture, In Vitro, fabricated from used eyeglasses, steel, and solder. These make up the left hand side of a saddle stitched folio, as they say in publishing parlance. The right hand side is numbered 22, and consist of an image of Bridget Riley's 1966 emulsion on canvas, Breathe. It was part of a show at DIA Centre for the Arts and was reviewed for dArt by Jeanne C. Wilkinson under the title Reconnaissance. The Breathe image ghosted through here onto from its page 21 verso over a photo of Damien Hirst as a pharmacist.
Four writers covering four shows contributed inadvertently to the banner image as a unity as it appears here. It's an accident of layout design, as the articles were entirely unrelated, being essentially guests showing up at the same party by chance. The two women in question appeared in videos produced by Lifetime Partners, a marriage agency based in California. Tapes of these hopeful Russian brides were acquired by British artists David Cross and Matthew Cornford, who presented them as part of the Cosmopolitan exhibition at Nikolai Fine Art in New York, where I had a chance to speak with them.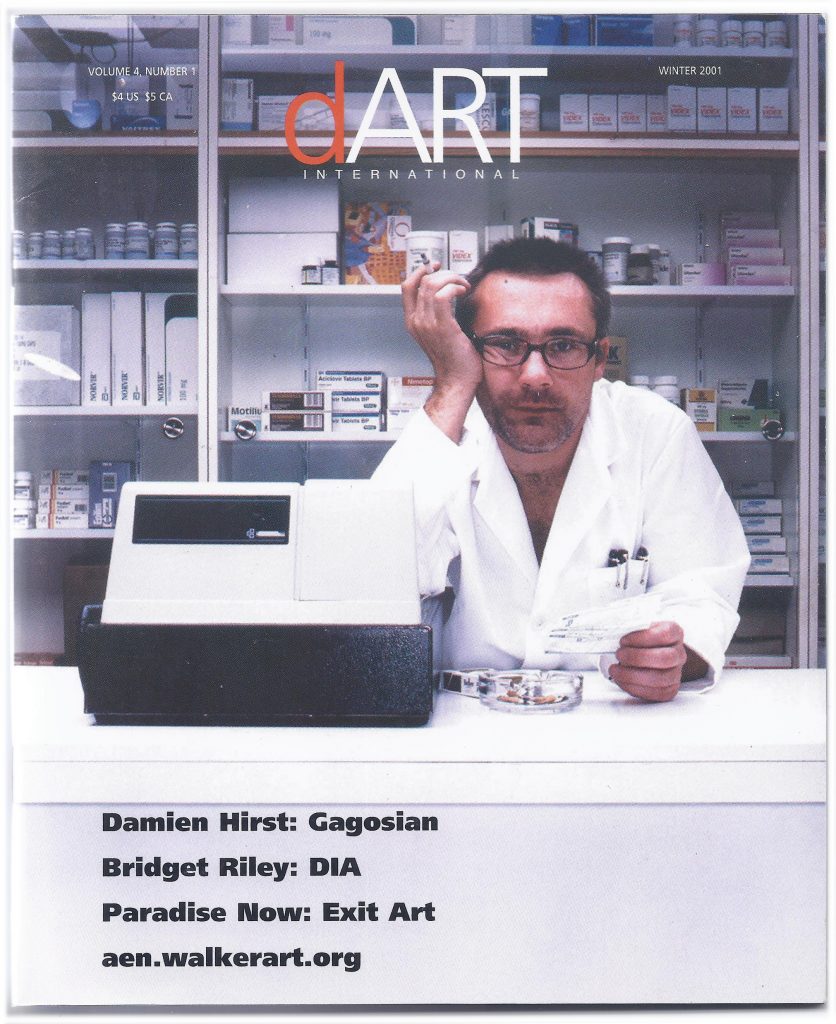 Los Angeles contributor Clayton Campbell concluded his review of Damian Hirst's Gagosian exhibit with these lines, "For one night this October, the centre of the art universe was at 24th Street and 11th Avenue in New York. Bravo, Mr. Hirst." In Jeanne Wilkinson's review of the Bridget Riley exhibition at DIA, a relevant quote might be, "They refer to nothing but themselves, and take us nowhere except into the discomforting shimmer of the eternal present." And here we are, of course, eleven years later, shimmering in the present, discomfortable as this might be.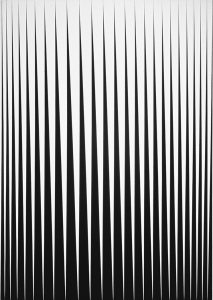 The Dominique Nahas piece on Richard Klein was titled Visibility Framed, with its representative image tagged as In Vitro. The naming of both are curiously descriptive in precise ways. Seeing is something that occurs within and without, or as the Latin describes it, in vivo and in vitro, both inside the living organism and its outside, something Klein had succeeded in "framing." Nahas describes the work as being about vision and visionary, where eyeglass frames are shaped to resemble a winged apparition, the reflection of the sun passing through the plastic lenses to create a diaphanous sieve-play of light and shadow against the wall.