by Siba Kumar Das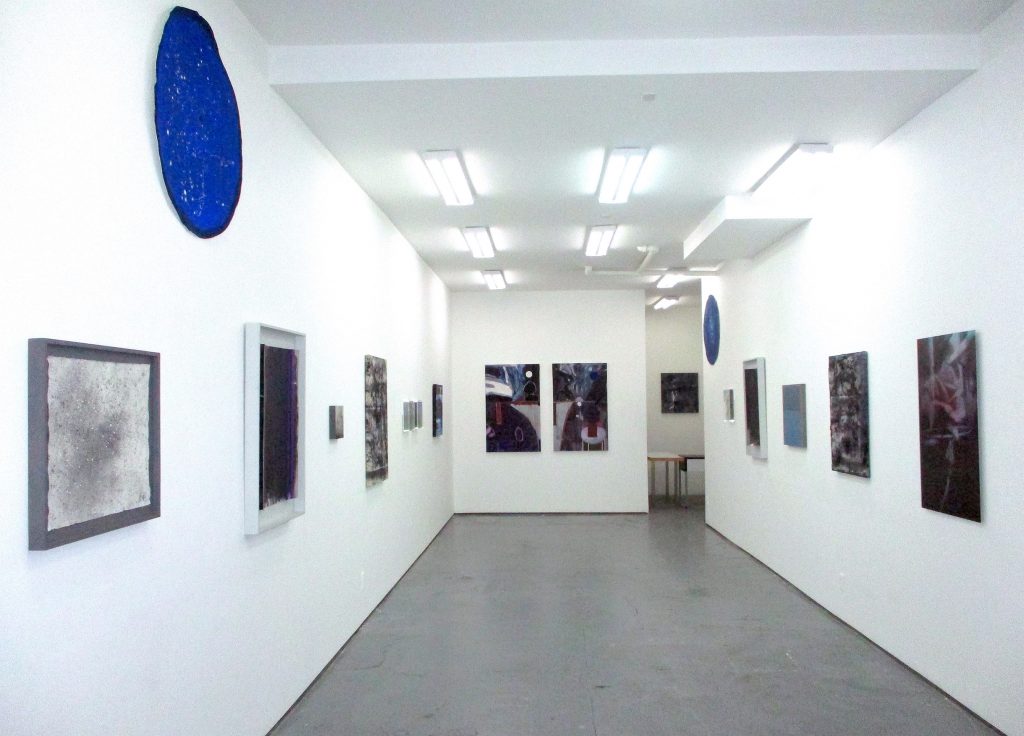 Exhibiting artists: Gretl Bauer, Vian Borchert, Jane Fire, Leslie Ford, Augustus Goertz, Bobbie Moline-Kramer, Robert Solomon, Lenora Rosenfield, Arlene Santana, and Martin Weinstein.
Referencing the Covid-19 pandemic, fiction writer, editor and educator Lisa Lynn Biggar recently said in Critical Read, "Science will find a cure, but art will give us a healing path to follow." To see how, go to Manhattan's Lower East Side and visit the Lichtundfire gallery's sublime show When Night Falls.
The show's curators – Priska Juschka (Lichtundfire) and Robert Curcio (curcioprojects) – have brought together paintings and multi-media works by ten artists from across the U.S. and Brazil. The majority of the art works have been expressly made for the show (July 15-August 8, 2020), in response to a call by the curators to contribute art addressing the awe and wonder that nighttime has long evoked.
Awe and wonder are primordial, universal emotions that have driven the human pursuit of knowledge, including the embodied cognition of which art is a manifestation. Progenitors of paradigm shifts in science and other human thinking, they are more necessary than ever at times of crisis, such as the present juncture when the world faces simultaneously two existential challenges – climate change and the COVID-19 pandemic – as well as other serious problems. When Night Falls is a most timely exhibit. Through allusiveness, symbolism and ambiguity, the art works on display open up feelings and thinking that unveil new vistas, sometimes unending, sometimes giving glimpses of the unknown or of new possibility, even as they eschew mere instrumentality. They induce in the viewer a profound engagement.
Indeed, they make me think of the art of Gerhard Richter, which the Met Breuer recently celebrated. I think especially of his late squeegee abstractions. Reviewing the Met show, art historian Susan Tallman spoke of Richter's art as "an assertion of endless possibility." I wonder if this insight doesn't apply to all good art. The paintings of Arlene Santana, Leslie Ford and Vian Borchert suggest worlds beyond themselves, creating as well a feeling of fathomless depth. The resulting psychological and spiritual resonance is akin to an imaginative experience that is at once expansive, boundless and oceanic. Look now at the same paintings in conjunction with Martin Weinstein's composite paintings that suggest the interplay of perception and memory through painted layers of transparent acrylic sheet. Time now grows inside you, giving your engagement with the four painters' works the presence of four dimensions.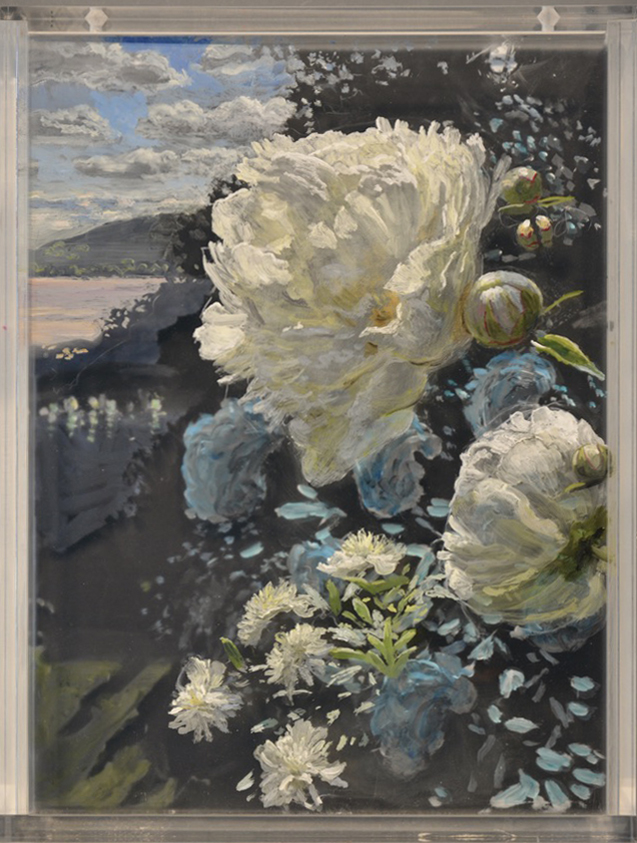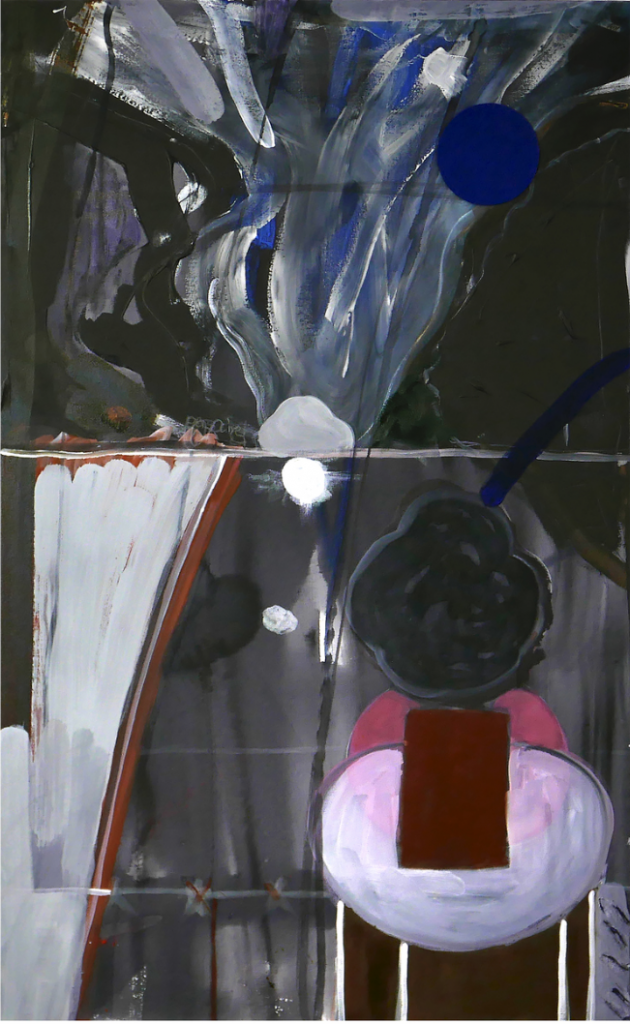 Two paintings by Robert Solomon sourced from journeying at night on a country road synthesize a serene expansiveness with dread and foreboding even as they bring together broad sweeps of abstraction with glimpses of figuration. The resulting symbolic content creates the very sinews of the aesthetic sublime. The sublime is also in action in Gretl Bauer's works. Her multi-media object employing paper, thread and gouache with great evocativeness is especially striking, for it suggests light struggling to emerge from darkness. A worthy coda to this discussion is Jane Fire's digital print literally and metaphorically illuminating a dark rose that NASA grew in 1998 on a space shuttle mission.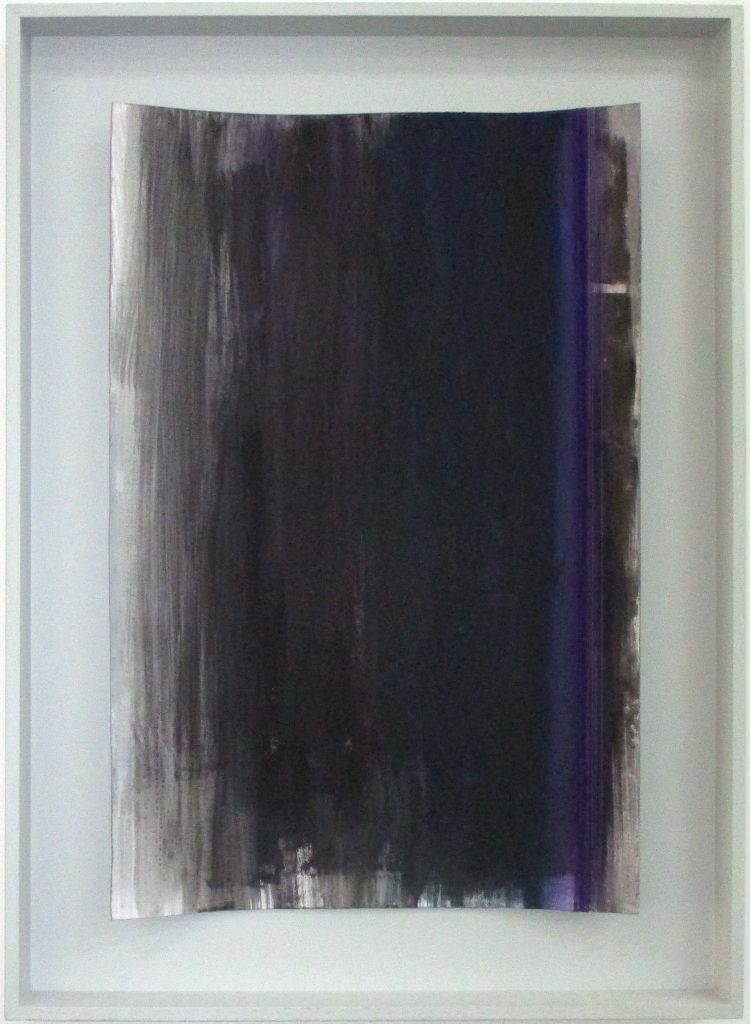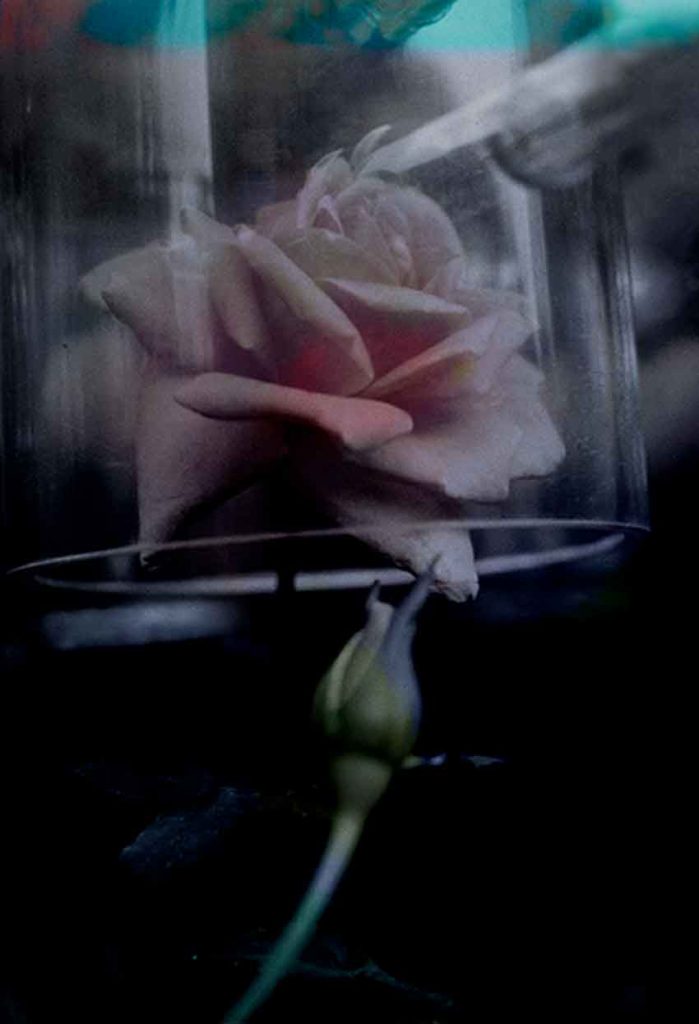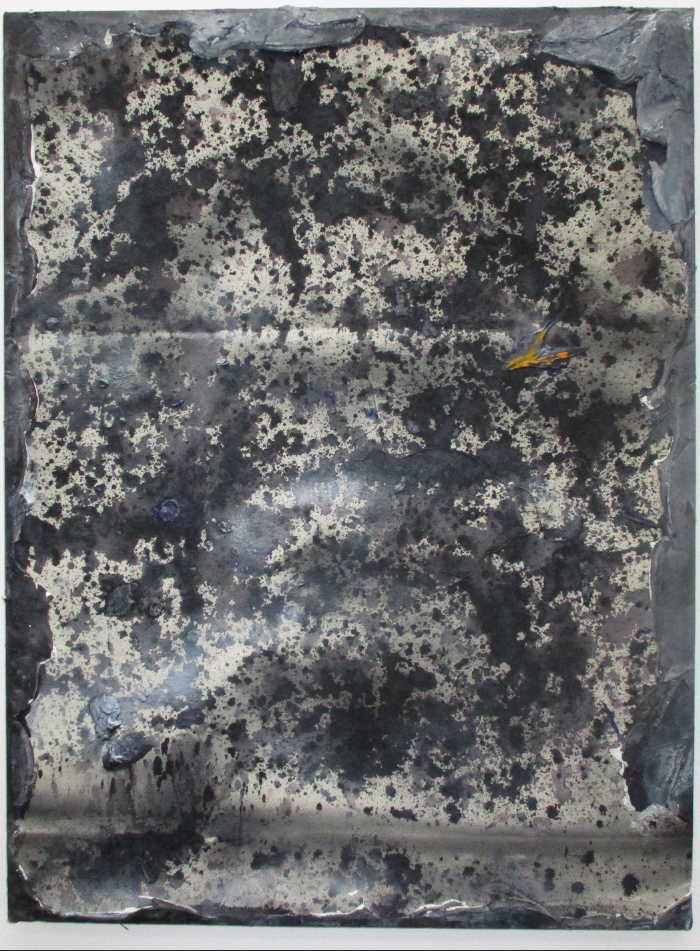 Augustus Goertz's three mixed-media paintings make you think of the Cosmic Microwave Background, the landmark sign of the Big Bang with which the universe originated 13.8 billion years ago. So sublime was Mt. Blanc to Percy Bysshe Shelley he was moved to write a great Romantic poem in its praise. Goertz seems to be following in his footsteps, inspired by a much vaster cosmic creation, the source of it all in fact. Bobbie-Moline Kramer is also a cosmic artist, imagining, in two paintings, the alignment of the stars at her birth and death. Brazilian artist Lenora Rosenfield looks at the stars through a glass ceiling in her studio, and the two paintings she has contributed to the show are products of her deep gazing. Her deep blue sky is so striking it reverberates in your mind; setting it off from her white stars and the blue-black of her felt backing, she achieves sublimity through the color itself.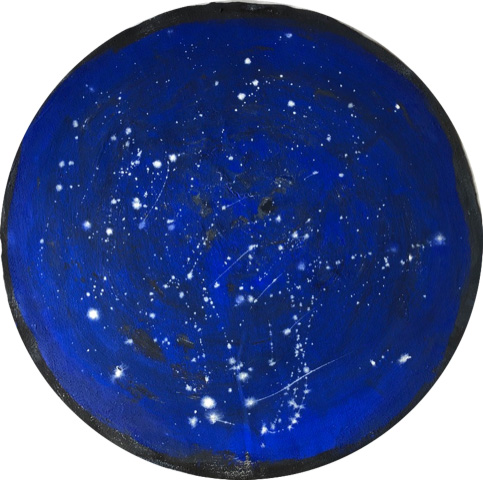 The frontiers of paint's possibilities are still being pushed from within painting's domain. One might even say that a reinvention of the aesthetic sublime is under way. "When Night Falls" is on that cutting edge.
About the Artists courtesy Lichtundfire:
Gretl Bauer's sculpted paper works combined with wash, thread, and wood, explore the possibilities of evoking whatever light might be coaxed from within that darkness.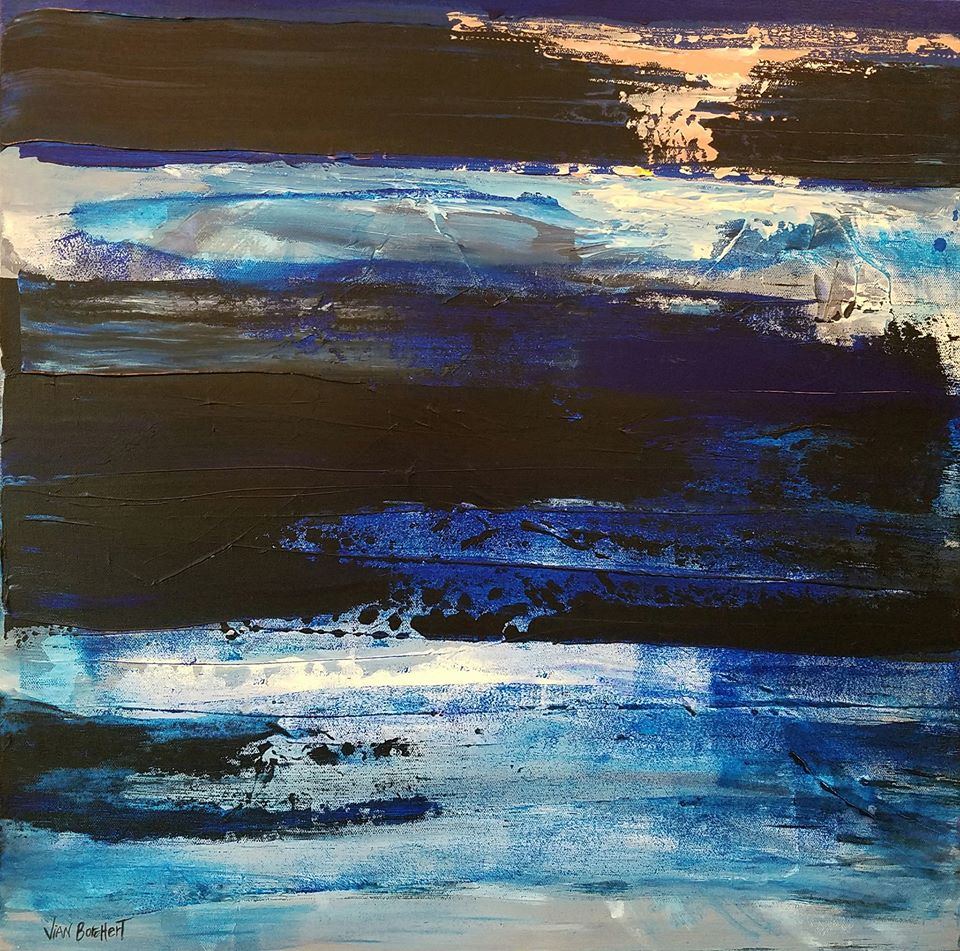 The bold gestural strokes barely contained within Vian Borchert's paintings dramatically seize upon that instant when the day's blue skies fall to the coming night.
Jane Fire's digital print represents a unique dark rose that was grown by NASA in the night of space and sponsored by a perfume company to capture its fragrance.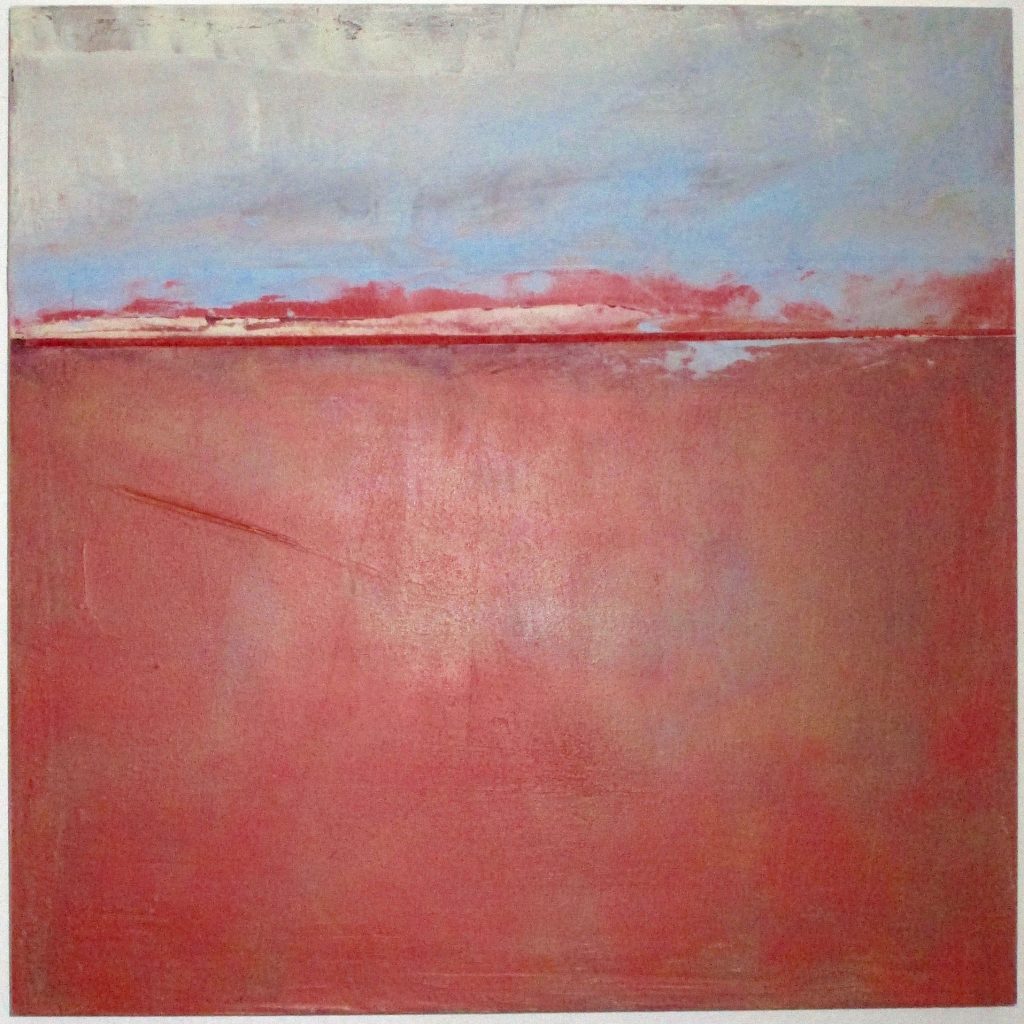 Off at a distant, a red horizon bisects Leslie Ford's series of paintings entitled "On Pause" metaphorically reflecting upon that fall from day to night and regular life to paused life where clarity comes from reflection or reverie.
A starry studded sky or a view into the sparkling void of the universe, Augustus Goertz's mixed media paintings combine process and imagination, improvisation and experimentation and the infinite with the eternal.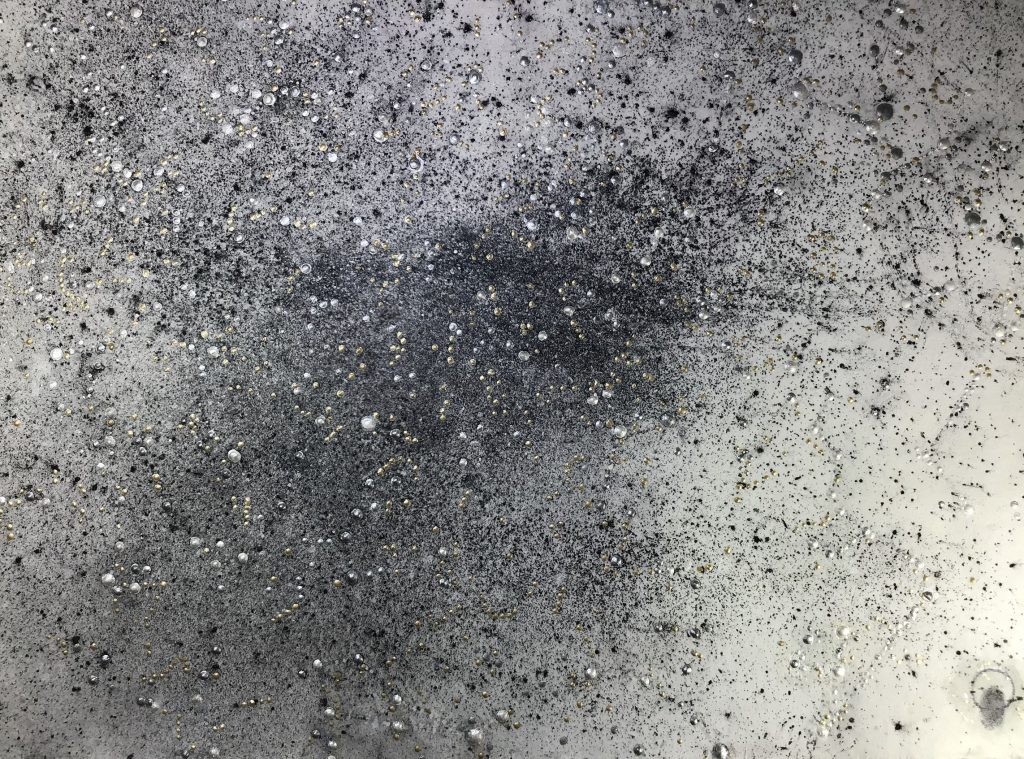 One of Bobbie Moline-Kramer's abstract paintings on paper is a detailed record of the constellations at the date, time and location of her birth, while her other piece with a rendering of a closed eye she imagines how the stars will align at the moment of her death.
Oscillating between the organic and geometric, Robert Solomon's abstract pastoral paintings takes us on a nighttime drive down an old country road filled with beauty, however, there's apprehension in his paintings – you just don't know what's beyond the bend or is something jumping out in front of the car.
Lenora Rosenfield's circular paintings created specifically for this exhibit are of the stars she stares at through a large glass ceiling in her studio while thinking of Ptolemy who amongst other things was an astronomer that has greatly influenced her painting while at the same time contemplating her quarantine in Brazil.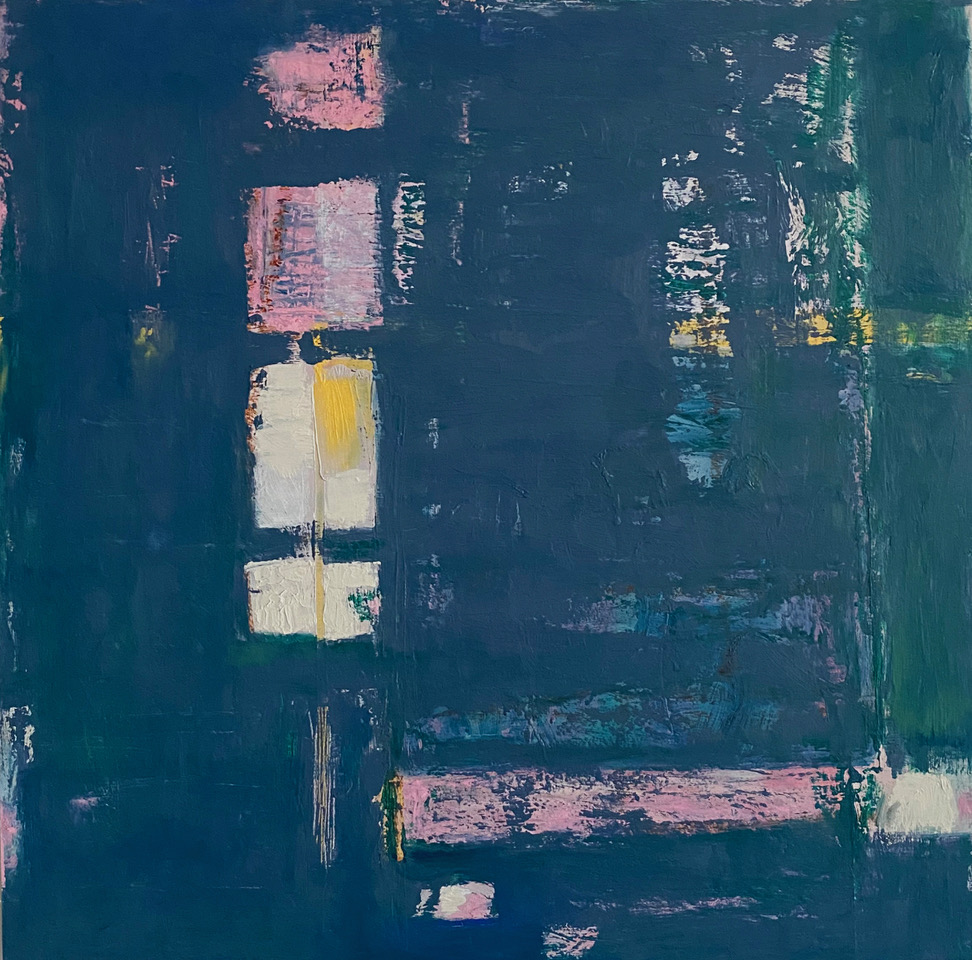 The in-studio process of Arlene Santana's abstract minimal paintings interprets a sense of the impending night at that unknown hour.
Martin Weinstein paints directly onto multiple acrylic panels in plein air from dusk to daylight, observing the same scene over a period of time. By layering these panels in a Plexiglass box structure, he constructs a complete painting that depicts the passage of when night falls.
For more information and images please contact: Priska Juschka at 917.675.7835, info@lichtundfire.com or Robert Curcio at 646.220.2557, curcioprojects@gmail.com
Lichtundfire is located at 175 Rivington Street, NY, NY 10002. Contact: Priska Juschka, info@lichtundfire.com, Tel 917.675.7835 Summer Hours: Tuesday – Saturday, 12 – 6pm and by appointment. www.lichtundfire.com
Exhibition Dates: July 15 – August 8, 2020. Outdoor Reception with Exhibit Viewing: Wednesday, July 15, 5 – 8pm. Appointments and Walk-Ins must wear a mask and must adhere to NY State Social Distancing Guidelines.