Curated by Dr. Kōan Jeff Baysa
Featured Artists: Halldór Ásgeirsson, Heimir Björgúlfsson, Solomon Enos, Leslie Gleim, Hamilton Kobayashi, Mucyo, Michelle Schwengel-Regala, Arngunnur Ýr. Dedicated to the memories of Hawai'i painter Hamilton Kobayashi and French geologist Jean Francheteau. Exhibition Venue: East Hawai'i Cultural Center, Hilo, Hawai'i Island, Hawai'i, USA. https://ehcc.org/content/terra-forme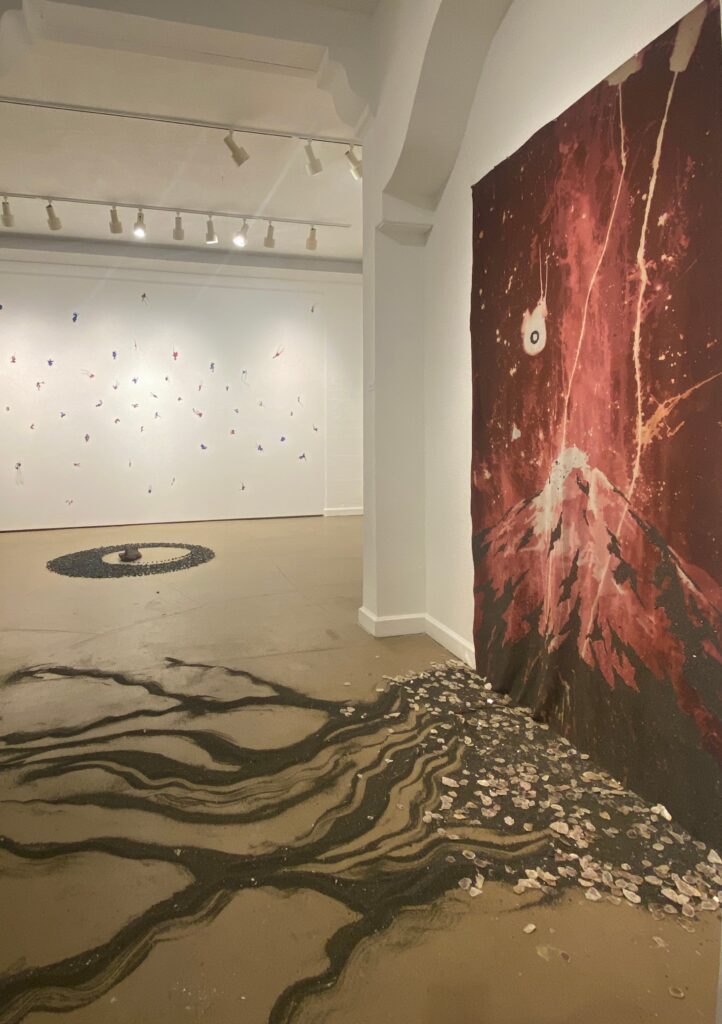 Terra Forme regards the Earth as a vast, diverse, and dynamically evolving entity. Adapted from the science fiction term: terraforming, the exhibition title describes the long-term transformation of an alien environment to support human life. Kīlauea volcano has added nearly 900 acres of new landmass to Hawai'i Island, but it is only in deep time, geologic time of 25,000 years, that the area will develop into a full and viable ecosystem.
In 2021, the curator flew to view dramatic volcanic eruptions in two disparate global locations: Fagradalsfjall on the Reykjanes Peninsula of Iceland and Kīlauea, the youngest and most active Hawaiian shield volcano located on Hawai'i Island, the largest in the island chain. He was further fascinated by volcanoes that lay beneath different forms of water: Öræfajökull in Iceland threatening massive floods and widespread destruction when its superheated magma violently meets its glacier cap; and the rising seamount, Kamaʻehuakanaloa, that is predicted to break the ocean surface in a conservative estimate of 50,000 more years to become Hawaii's youngest island.
A gathering of volcano-inspired artworks by artists from Iceland, Hawai'i, and Africa, Terra Forme embraces concepts of geomorphology, deep time, and indigenous beliefs. The paintings by Honolulu-based Hamilton Kobayashi capture the fiery energy and palpable heat of Kilauea's eruptions. The spectacularly detailed photographic images by Honolulu-based photographer Leslie Gleim taken from a helicopter flying over active lava flows contrast with those of older lava fields rejuvenated by new growths of ferns and 'ohi'a lehua trees. The paintings by LA-based Icelandic artist Heimir Björgúlfsson portray resilient winged inhabitants that return to and adapt to the new environs of Kilauea's post-eruption caldera: a koa'e kea (white-tailed tropicbird), pueo (owl), and pulelehua (Kamehameha butterfly). 
The concept of new land through terraforming is taken to fantastical heights with the work of Honolulu-based native Hawaiian Solomon Enos and Icelandic artist Arngunnur Ýr. Enos presents a strikingly different vision of new landscapes with flying islands suspended aloft and trailing clouds. Ýr's triptychs, each linked by a continuous horizon line, are unified panoramic combinations of geographically disparate locations in Iceland, Oregon, and Hawai'i where she has visited or resided.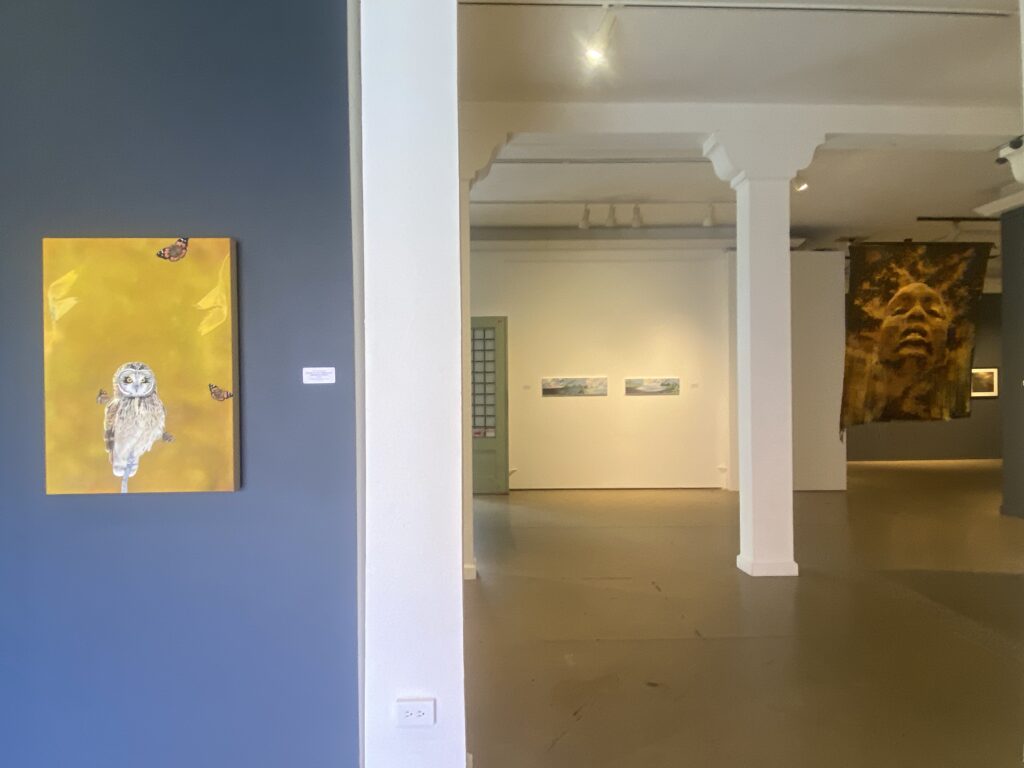 A lava lake is a rare characteristic of volcanoes and three artists including Hamilton Kobayashi depict it in their artworks. The Rwanda-based artist Mucyo presents a bleach process painting referencing the world's largest permanent lava lake: Mount Nyiragongo in the Democratic Republic of the Congo near its border with Rwanda. The lava lake in the inner summit crater of Mount Erebus, the highest active volcano in Antarctica, has been present for the last fifty years. Based on her visit there, Honolulu-based artist Michelle Schwengel-Regala created a twisted sculptural abstraction made of multihued anodized aluminum evoking a crater and its rim above which are suspended dangerous lava bombs of the same material that are in real life violently ejected by volcanic eruptions. Iceland-based Halldor Ásgeirsson also presents abstracted works with an entire wall mounted with small colored works on paper that represent elves freed from the lava stones that held them captive until released by a torch wielded by the artist.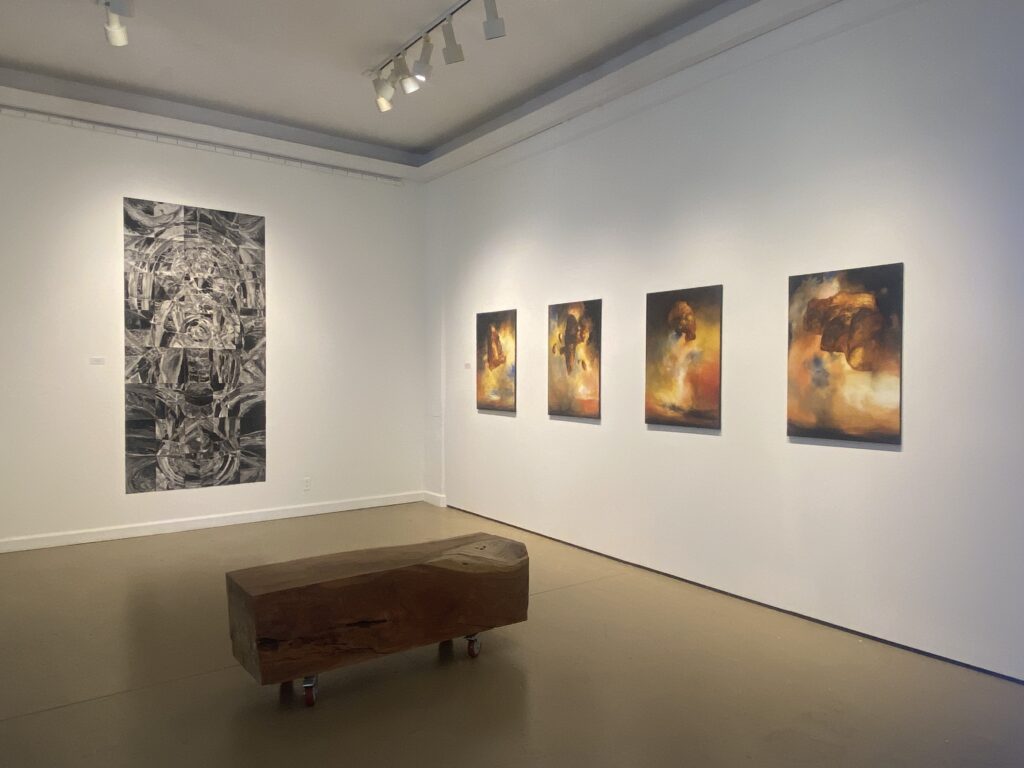 Volcanic activities act as potent agents of change not only of topography, but they shape thinking as well. Eruptions have often been interpreted by indigenous communities as the results of godly displeasures. In two separate paintings, the artist Mucyo depicts the Congo-Rwanda sibling volcano goddesses Nyiragongo and Nyamuragira from Africa's Rift Valley. Eruptions occur when the younger sister Nyamuragira attempts to assuage her older sibling's discontent. A world away, the artist Enos offers a monochromatic fractionated figure that incorporates the Polynesian volcano goddess Pele (Pere in Tahiti) whose vigorous arguments with her sister Nāmakaokaha'i, a powerful ocean deity, are manifested through active lava flows.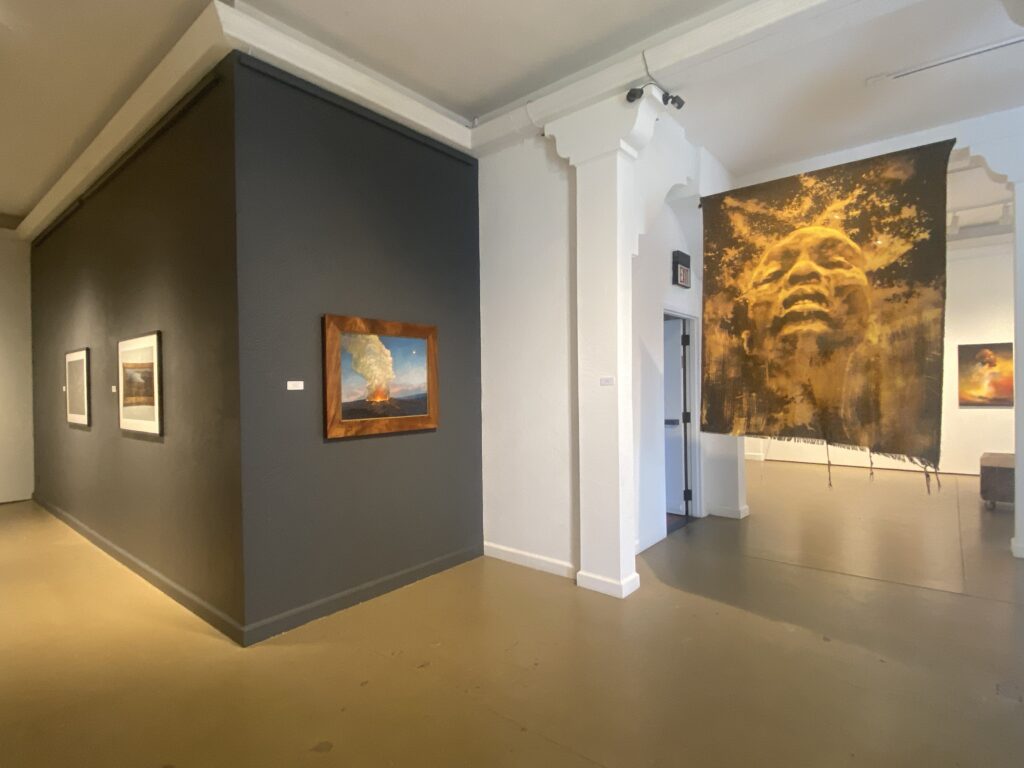 Both installations by Ásgeirsson and Mucyo incorporate volcanic material sourced from their countries, Iceland and Rwanda respectively. Ásgeirsson arranges volcanic glass droplets in a widening spiral that originates with a large lava piece brought from a recent Icelandic eruption. Mucyo's installation begins with a wall-mounted painting of Nyiragongo that flows onto the floor with scattered pieces of Rwandan mica and feathering trails of black sand. Accompanying this is a live recording of female elders recounting volcano mythologies in Lingala, their native tongue.
The works created by the artists of Terra Forme help us to appreciate powerful natural phenomena that fall outside the boundaries of human lifetimes, experiences, and beliefs, prompting us to reflect about time on this planet, its care, and our place in the cosmos.