by D. Dominick Lombardi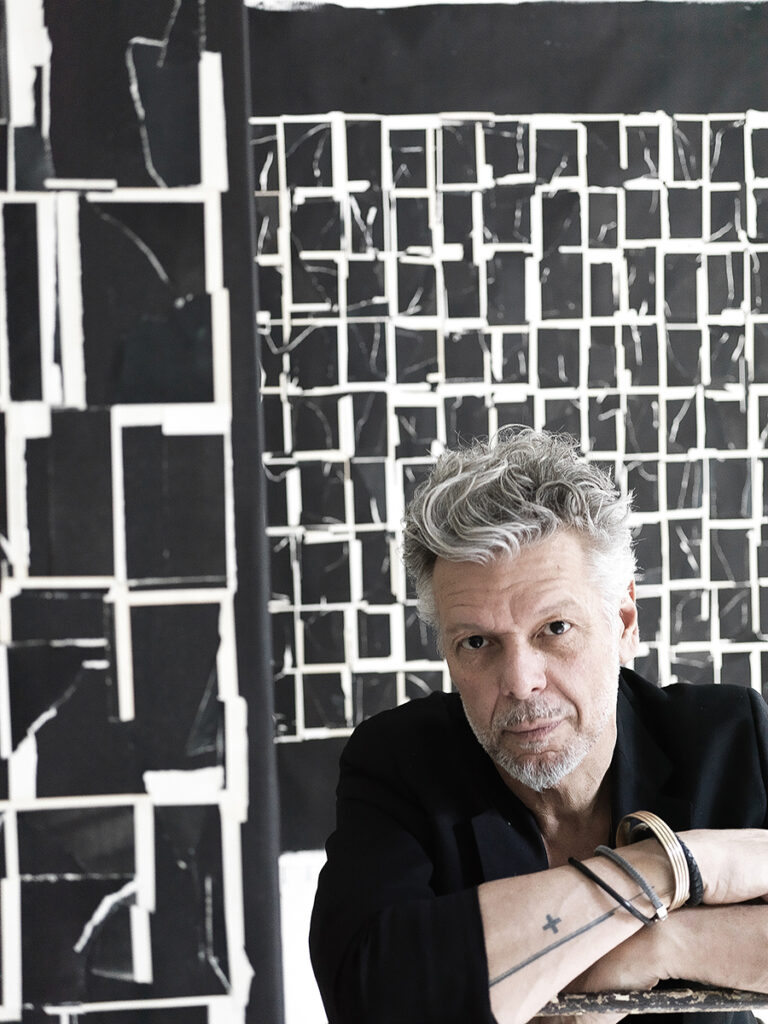 Ripped, a solo exhibition of the works of Hans Neleman, reaffirms the truth that the destructive-creative process of collage is much like graffiti, in that it gains strength from its boldness to change a preexisting thing, space or expression no matter how powerful or benign. By using the outer edges of 1940's illustrations of art left as remnants from past works, Neleman reveals the limits of those thoughts and visions, where the conscious and subconscious intertwine, while his process symbolizes spontaneity and an obsession with the tactile. As a result, he creates a place where structures fade, memories leave indelible marks and time begins to become one endless moment. Through his art, Neleman challenges us to experience and rethink the far reaches of what we perceive so we may move past the periphery of our experiences, where the edges that once defined the picture plane become an arresting rhythmic geometric accent. 
Neleman wishes us to expand our thoughts as a challenge to our preconceived limitations of fact and expression. He creates compositions where the fringes of the past become the focus of the present, and in so doing, remakes the past as a contemporary expression, making it fresh and new and ready to breathe again. His works feature thoughts and ideas as contrasting visualizations, not just in dark and light, but in the mechanical and the organic. For instance, in Humanity (2022), we first see extreme shifts in dark and light, what Neleman refers to as "how we live together separately in opposing states, always in flux and being ripped apart by politics, war, disease. Only to be "glued" back together by time". This overall approach to collage in Humanity forms subtle tonal changes, prompting the viewer to look more deeply, possibly seeing fleeting forms that come and go like one might observe in an adjacent apartment or office building. If that experience occurs, one could conclude that the numerous sections seen here represent individual souls, living life largely apart from others who exist just a few feet away, and where Neleman sees an opportunity for those same individuals to find community built upon common ground.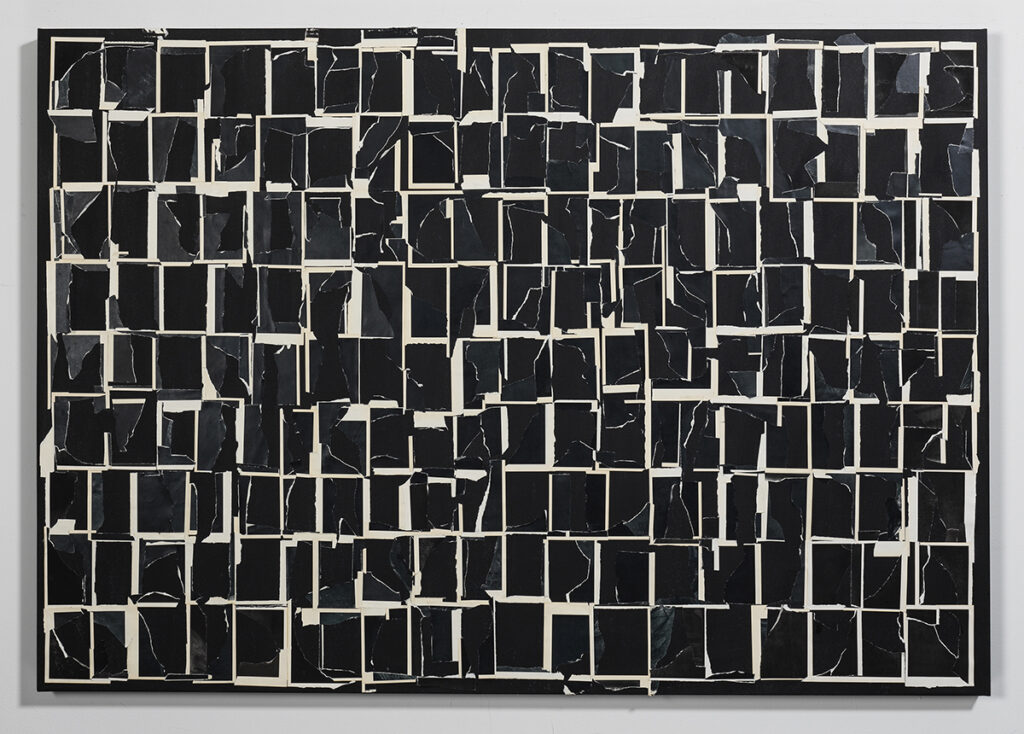 In all of the art of Neleman, we experience a visual effectiveness of each field of assembled paper fragments that are in constant flux, which in a way parodies life itself. His process has a distinctive tempo, a particular pulse to the emerging narratives that encompass many fields he has directly experienced – photography, music video, painting, assemblage – all melding into a universal language that crosses socio-political boundaries, and spans a unique depth and breadth of the human senses. The vibrant, albethey nuanced narratives, convey vague familiarities, creating fleeting references that are buoyed by a network of shapes and forms that imply movement, perspective, change and reasoning. It is as if the second we think we see something it immediately disappears, only to return again in an endless loop of fragmented truths.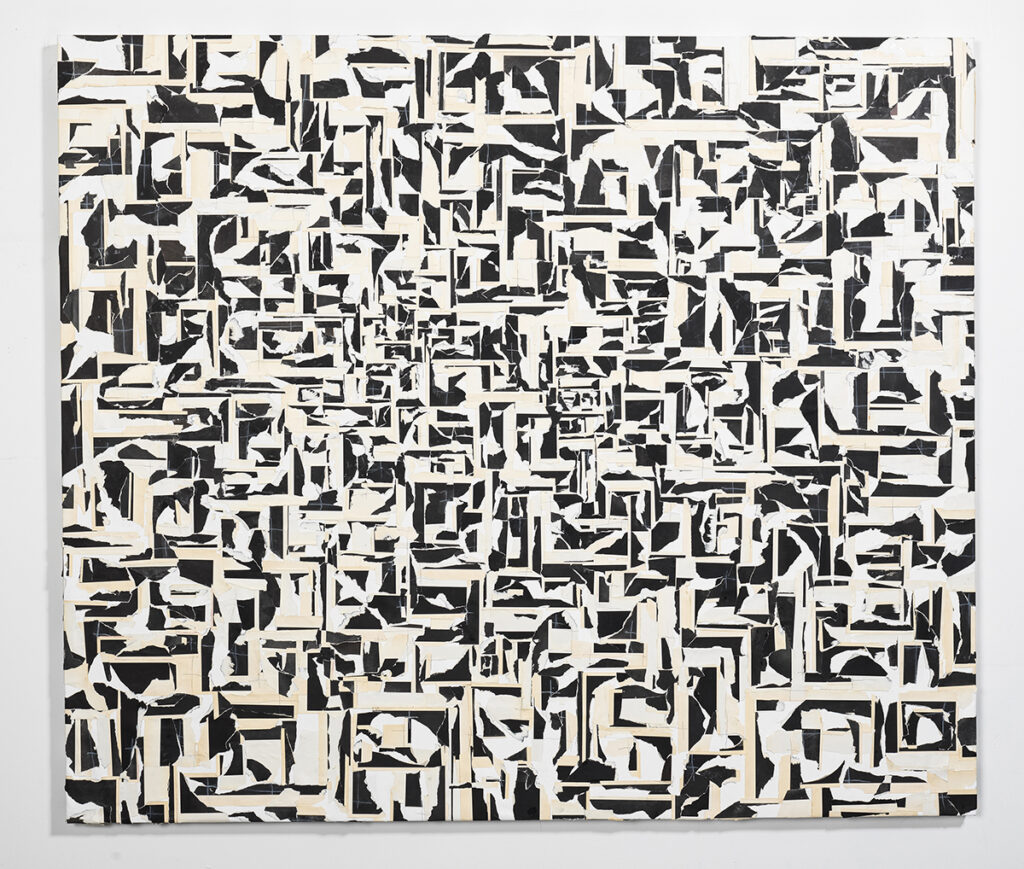 As mentioned earlier, the paper Neleman uses to create his mixed media paintings come from old books, which adds a direct correlation to the past, albeit a subtle one, since the paper used to print books several decades ago will darken over time. Since the paper is no longer stark white, it both softens and supports Neleman's desire to simultaneously embrace and displace time. Also in Instant Poetry II (2022), the artist reconstructs a collective memory; not to simply resurrect the past, but to retrofit the old through a contemporary lens that seeks balance, purity and universality. Overall, the composition of Instant Poetry II creates a very subtle vortex which draws the viewer's attention toward the center, which appears to be receding. As it happens, that pull creates depth, while a general feeling of another dimension comes to the fore in this and all of Neleman's works. In the end, we are left with compositions that straddle time, engaging the viewer as we look to the future. when our differences will be embraced and celebrated.
Ripped opens on October 12th and runs through November 15th at the Jean Jacobs Gallery, 84 Main Street, New Canaan, CT. The Opening Reception Saturday October 15,  6.30 – 9.00 pm.