by Jen Dragon
Self: Portraits + Places is a three-woman exhibition of paintings recently at the Kleinert/James Center for the Arts in Woodstock, N.Y. The artists in this exhibit, Brenda Goodman, Julie Heffernan, and Elisa Jensen, consider the myriad senses of being within the confines of the painted portrait.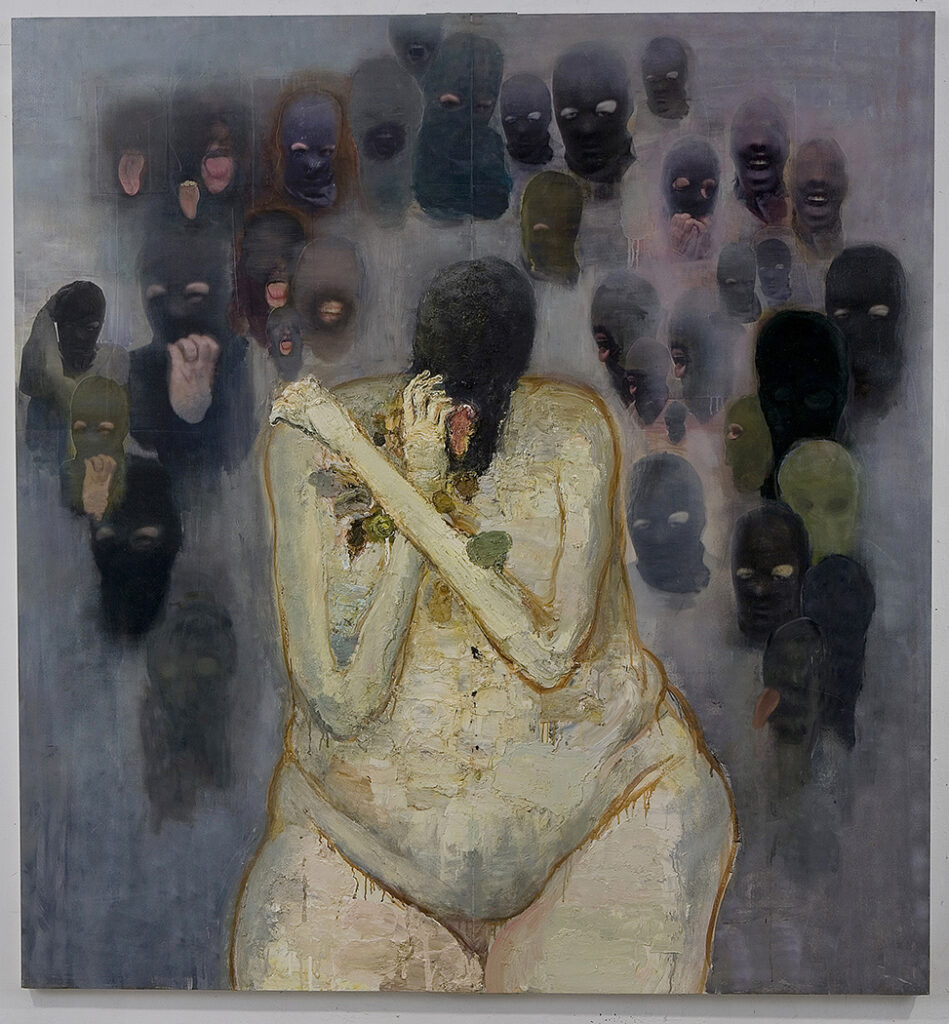 For Brenda Goodman, the notion of Self is mirrored by the unflinching gaze of the canvas as the artist paints herself naked and standing alone in her studio. These artworks predate the abstract paintings she is now known for yet underline the very personal foundation of all her work. In these Self Portraits in the Studio, the crushing space evokes a loneliness and vulnerability that is almost unbearable as haunted masked figures surround a terrorized woman (No. 1) while other paintings feature the artist gazing at herself or at the viewer in clothed curiosity (No.5).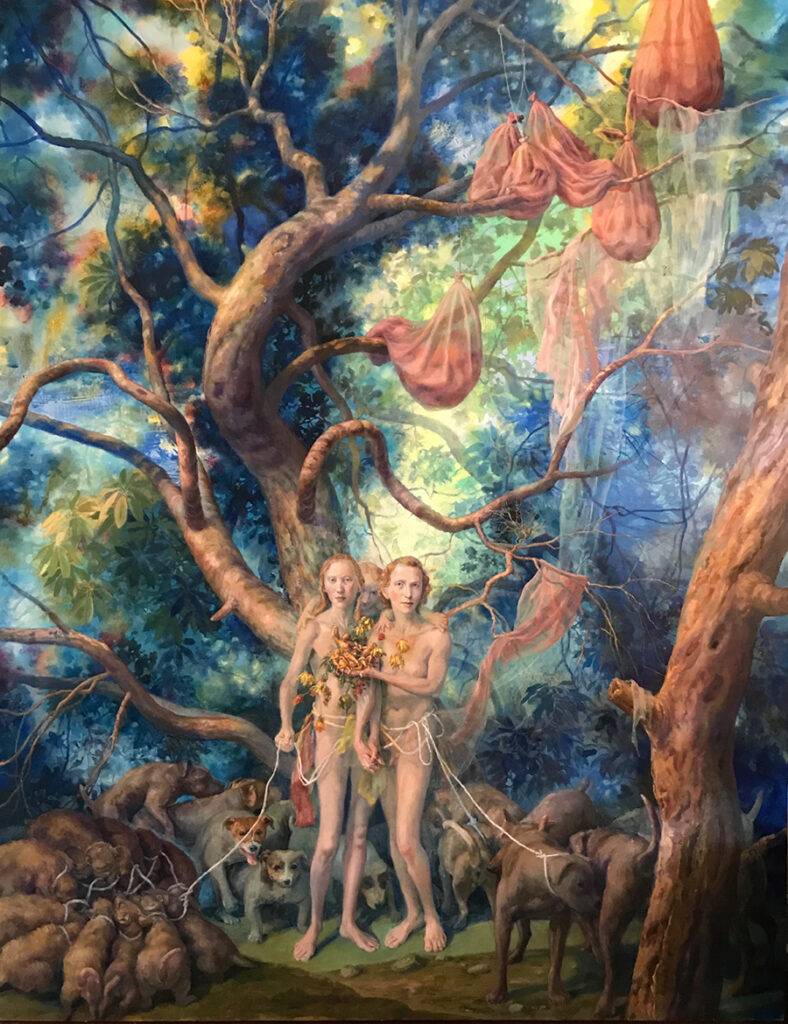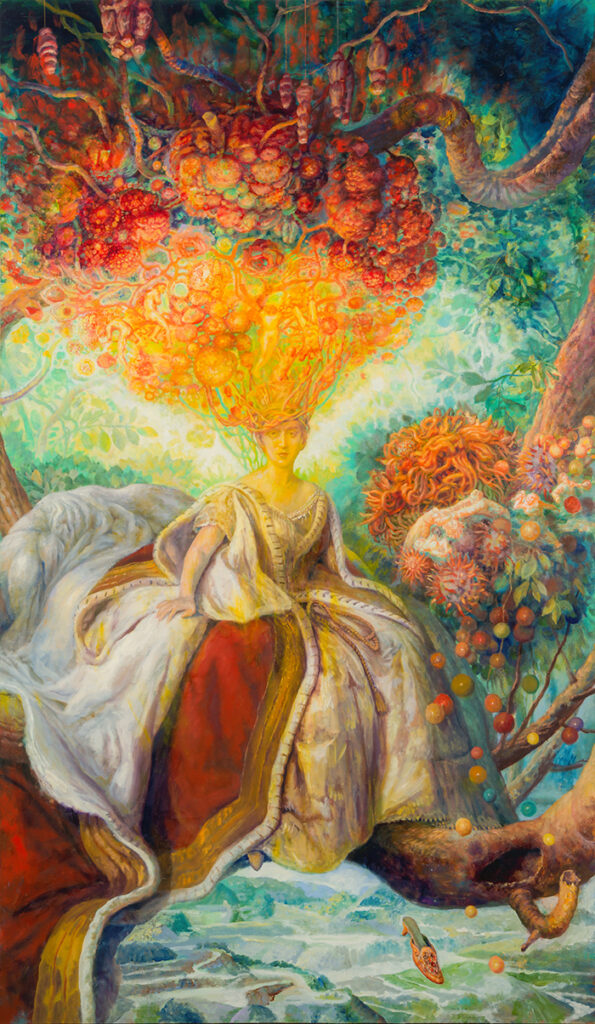 Julie Heffernan weaves a different version of selfhood from the chaotic skeins of dreams and visions. The fluidity of the female form merges with the botany of the natural world, presenting an allegorical tableau vivant. In Self Portrait as the Mad Queen, the subject possesses a strength that controls telluric currents while funneling a white-hot intensity that can bend destiny. All of Heffernan's paintings merge artifice with nature ; what is supposed to be wild and savage (the woodlands) are intricately ordered while the protagonists present as inscrutable actors posing as timeless archetypes.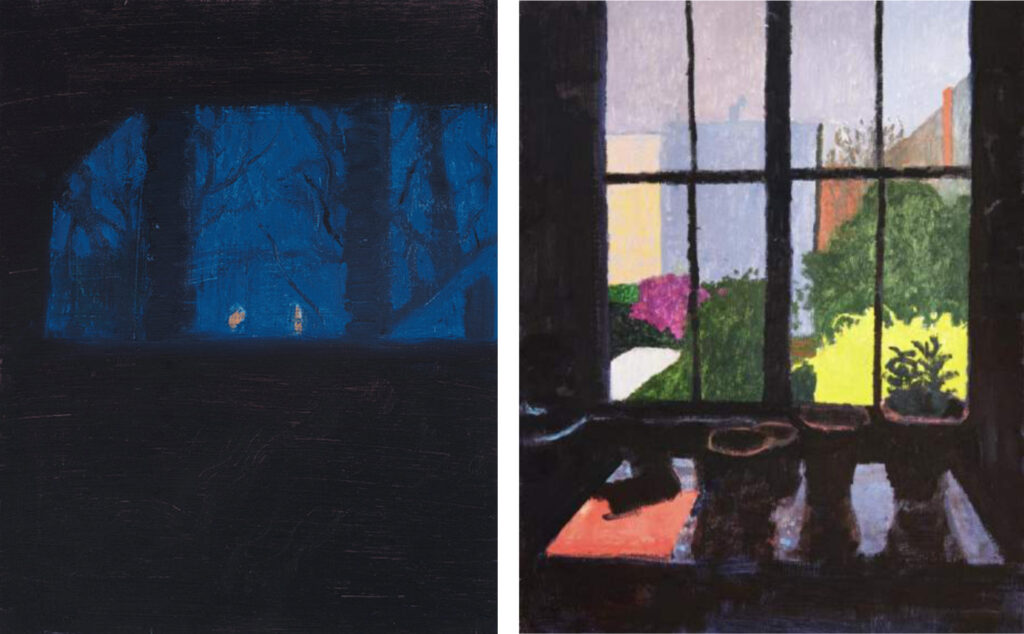 Elisa Jensen turns away from both figure and fantasy as she places the Self squarely in the geography of light and object. Her subject matter is the serenity of interior space and the intimate connection to the forms that shape our world. Jensen depicts humble domestic objects and phenomena, such as a beam of light through a window, as a stage setting for an internal drama. Her dark interiors parallel the depths of the mind's eye while the views out the windows become the portals that link the inside experience to the vast world beyond.
As three Fates, these artists present separate visions of Selfhood as an embodied physical emotion, a mystical mythology, or a subject-less experience bound by the very rooms we inhabit. These intangible self-portraits eclipse the subject in meaning as the paintings in SELF: Portraits + Places capture the paradox of individuality and the reality of a universal human experience.